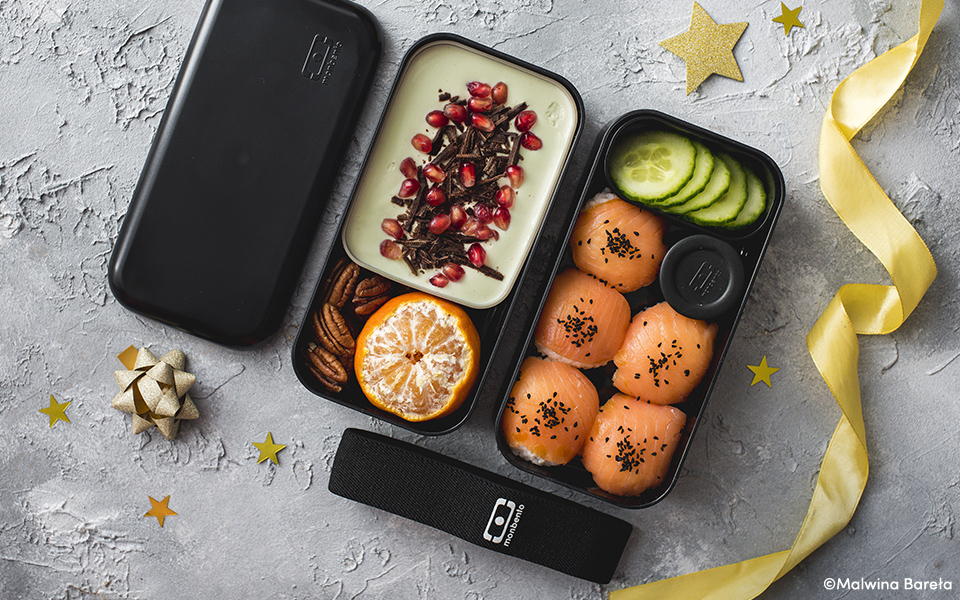 Ingredients
For the Temari sushi with smoked salmon: 
1

40 g

 of warm cooked sushi rice

 

2 tsp of rice vinegar 

 

1 tsp of sugar

 

A

 

pinch of salt 

 

5 thin slices of smoked salmon 

 

W

asabi paste 

 

J

apanese

 soy sauce for serving

 
For the no-bake matcha cheesecake: 
300 g of cream cheese a

t

 room temperature

 

3 tbsp of maple syrup or 

superfine

 

sugar

 

1 tsp of matcha powder

 

2 tsp of 

gelat

in

 powder

 

50 ml of milk

 

Dark chocolate and pomegranate seeds for 

serving

 
Instructions
For the Temari sushi: 
In a small bowl, mix the rice vinegar, sugar and salt. 
Place the sushi rice in a large bowl and add the mixture previously prepared. Mix well. Cover the bowl with a kitchen towel and let cool.  
In the middle of the sushi mat, put the salmon slice, some wasabi paste and one heaped tablespoon of cool rice. Rolling the sushi mat, shape the sushi into a little ball. Unwrap the sushi mat and transfer the Temari sushi in the first container of your MB Original bento box. Repeat the operation.  
Pour some soy sauce into the MB Temple M sauce cup and put it in your bento box.  
For the no-bake matcha cheesecake:  
In a bowl, beat the cream cheese with the maple syrup and matcha powder until well combined.  
Dilute the gelatin powder in milk, then heat until it is completely dissolved - do not cook – and let cool for a little while. Pour the milk into the bowl with the previously prepared mixture and mix thoroughly.  
Pour the cheesecake into the MB Silicase 2/3 mold, add some chopped chocolate and pomegranate seeds on top and put it in the fridge for at least 3-4 hours or overnight.  
When the cheesecake is ready, put the mold into the second container of your MB Original bento box and add some seasonal fruit before serving.  
Presented products