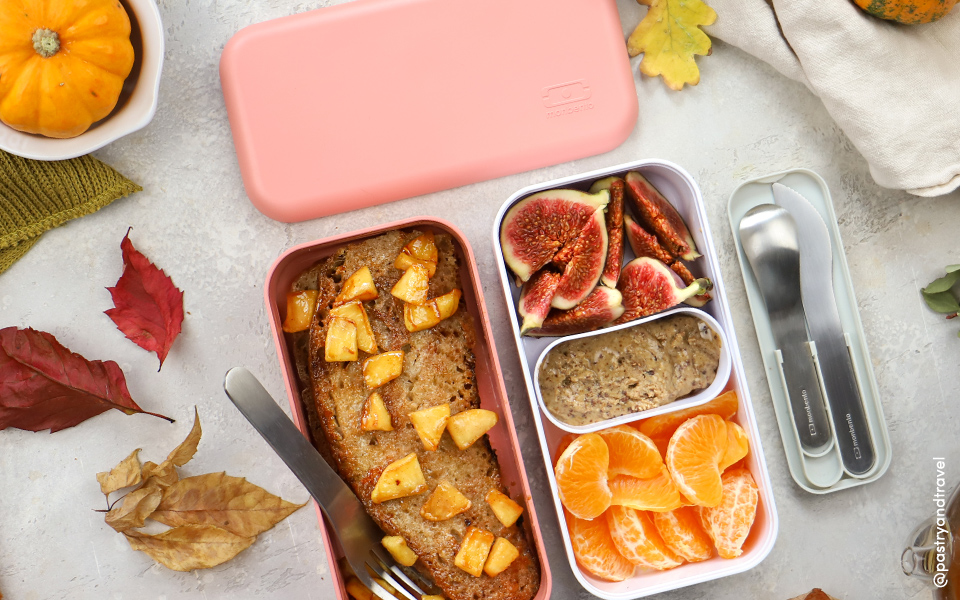 Ingredients
1 or 2 slices of hard bread

 

150 ml 

of 

almond milk 

 

1 

tbsp

 

of

 sugar 

 

1 

tsp

 

of

 cinnamon 

 

1 

tbsp

 of wheat flour

 

1 

tbsp

 of margarine

 

1 

apple

 
Instructions
In a salad bowl, mix the almond milk, sugar, cinnamon and flour.  
Dip the slices of hard bread in the mixture and leave them to soak for a few minutes on each side. 
Melt the margarine in a frying pan. Place the slices of bread soaked in the preparation and leave them to brown. Repeat the operation on each side.   
Coarsely cut the apple.  
In a frying pan, cook it with the sugar and cinnamon for 15 minutes.  
Place the French toasts in a container of the MB Original bento box and cover them with the cinnamon apples.  
Serve with fresh seasonal fruit.  
Presented products