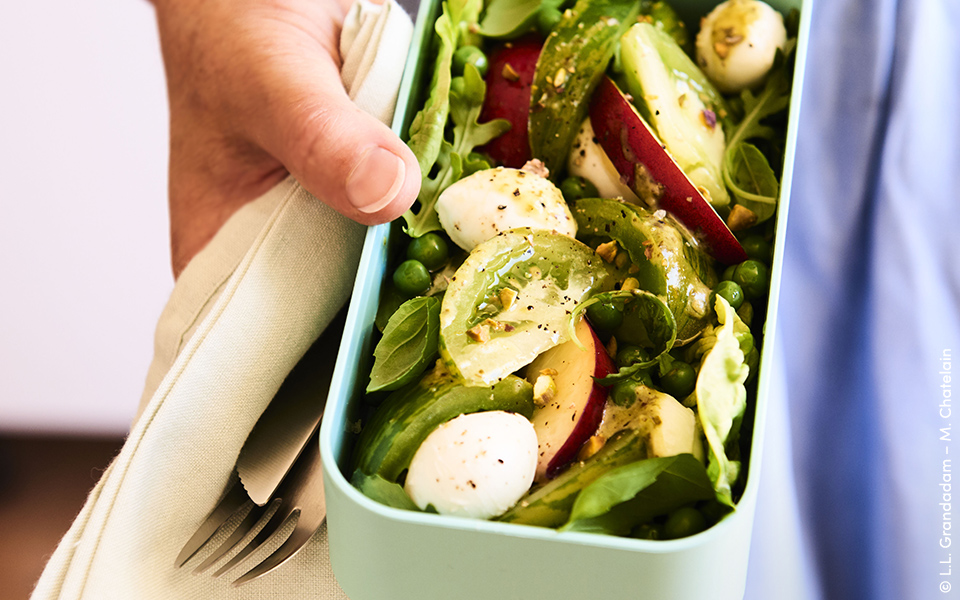 Ingredients
2 green tomatoes
1 small nectarine
½ mozzarella ball (or 6 little balls)
2 tbsp of cooked green peas

A handful of arugula
A handful of shelled pistachios
Some basil leaves
2 tbsp of pesto
Balsamic vinegar
Olive oil
Fleur de sel (sea salt)
Pepper
Instructions
Cut the tomatoes and nectarine into quarters. Cut the mozzarella into pieces. Crush the pistachios.
For the sauce: in a bowl, mix the pesto with 1 tbsp of vinegar and 1 tbsp of olive oil.
Mix the arugula with the green peas and a little bit of sauce and place everything in the bento container. Then, add the tomatoes, mozzarella, nectarine pieces and the basil leaves. Add the rest of the sauce, some salt and pepper and place it in the fridge.
Tip: Prepare this salad in the morning for even more freshness. Otherwise, prepare the ingredients the day before and save the sauce in your MB Temple sauce container. 
Presented products