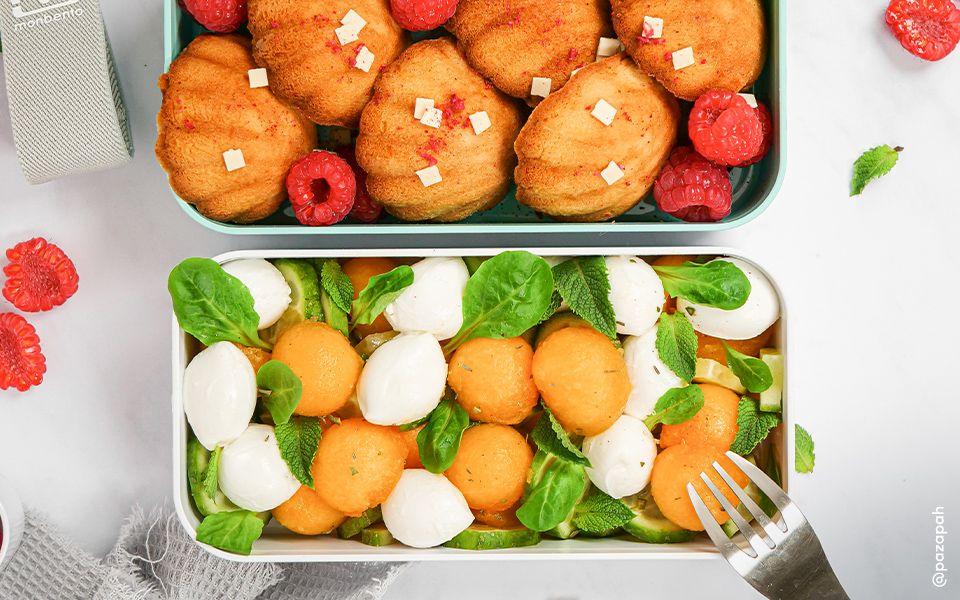 Ingredients
For the salad:
1 melon
1/2 cucumber
300g of mozzarella
A handful of lamb's lettuce
2 sprigs of mint
Olive oil
Lemon juice
Salt and pepper
For the vanilla cake:
150g of sugar
1 tsp of vanilla powder
80g of almond powder
3 egg whites
130g of butter
50g of flour
A pinch of salt
Instructions
Prepare the salad:
Make some melon balls and slice the cucumber. Arrange them in a salad bowl. Drain the mozzarella balls. Rinse and spin the lamb's lettuce. Pick the mint leaves off the sprigs and chop them. Add all the ingredients to the salad bowl. Drizzle with olive oil and lemon juice. Season with salt and pepper. Mix and set aside in a cool place until serving.  
Prepare the vanilla cakes:
Preheat the oven to 200°C. Melt the butter, let it cool and set aside. In a bowl, mix the sugar, flour and almond powder. Beat the egg whites until stiff and add them to the mixture. Add the melted butter and mix. Pour the dough into molds, making sure you don't overfill them. Bake for 15-20 minutes (depending on your oven and the size of your cakes). Cakes are cooked when they have a nice golden color and an inserted toothpick or knife comes out clean.
Presented products