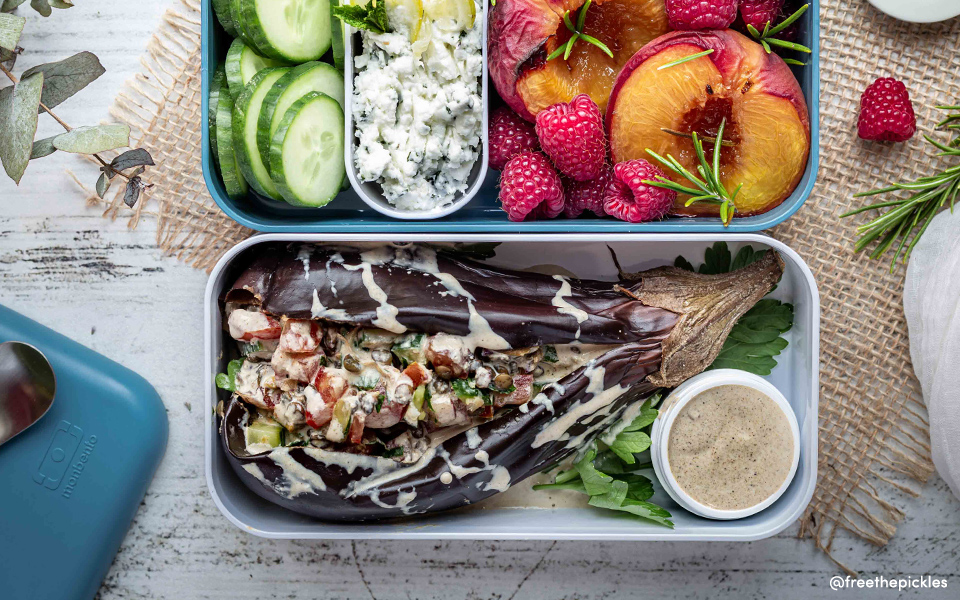 Ingredients
For the stuffed eggplant:
1 eggplant
20g of raw green lentils
1 little tomato (about 100g)
½ small red onion (about 20g)
1 piece of cucumber (about 20g)
2 mint leaves
1 sprig of flat-leaf parsley
For the Tahini sauce:
20g of wholegrain tahini (less bitter than the white tahini)
8ml of water
Juice of ¼ lemon
A pinch of salt
A pinch of cumin powder
1/2 tbsp of Greek yogurt or soy yogurt (for a vegan version)
For the spread :
50g of feta cheese
1 tbsp of lemon juice
1 small pressed garlic clove
4 mint leaves (chopped)
For the roasted peach:
1 ripe yellow peach
1 tbsp of maple syrup
2 tbsp of water
1 little sprig of rosemary
Instructions
For the eggplant stuffed with Tahini sauce:
Preheat the oven in grill mode to 200°C. Cover your baking tray with baking paper and place the eggplant as it is, without cutting any part. Place it on the upper part of the oven, close to the grill. Bake for about 10 minutes, until the skin is toasted. Then, place the oven rack in the middle of the oven and put it on rotating heat, at 200°C. Let cook for about 40min.
Prepare the stuffing: Cook the lentils according to the instructions on the box. Drained and set aside. Dice the tomato, onion and cucumber, chop the aromatic herbs and mix with the lentils. Take the eggplant out of the oven and let cool before cutting it lenghtwise (be careful, the bottom must not be cut). Using a fork, scrape the eggplant flesh and add it to the lentils mixture. Gently mix.
Prepare the Tahini sauce by mixing all the ingredients together (you can put Tahini sauce in a blender to mix it more easily). Season with salt and pepper. Coat the eggplant with the sauce and place it in one of your bento box containers.  
Prepare the feta spread:
Crumble the feta cheese in a bowl and mash it with a fork until obtaining a spreadable consistency. Add the lemon juice, pressed garlic and mint and mix well. Season the mix according to taste. Place the spread in the food cup and let it cool in your fridge, in order to let the flavors develop. This spread goes perfectly with cucumbers slices, breadsticks or small toasts!  
For the roasted peach:
Preheat the oven to 200°C.
Cut the peach in half and remove the pit. Place it in a baking pan, cut side up (be careful, it's important to choose a dish that is not too big so that the syrup doesn't evaporate). Pour the maple syrup over the peach halves. Then, add water in the baking pan and the rosemary leaves to flavor the syrup. Bake during 25 to 30 minutes. Serve warm or cold with the syrup and some raspberries.
Presented products