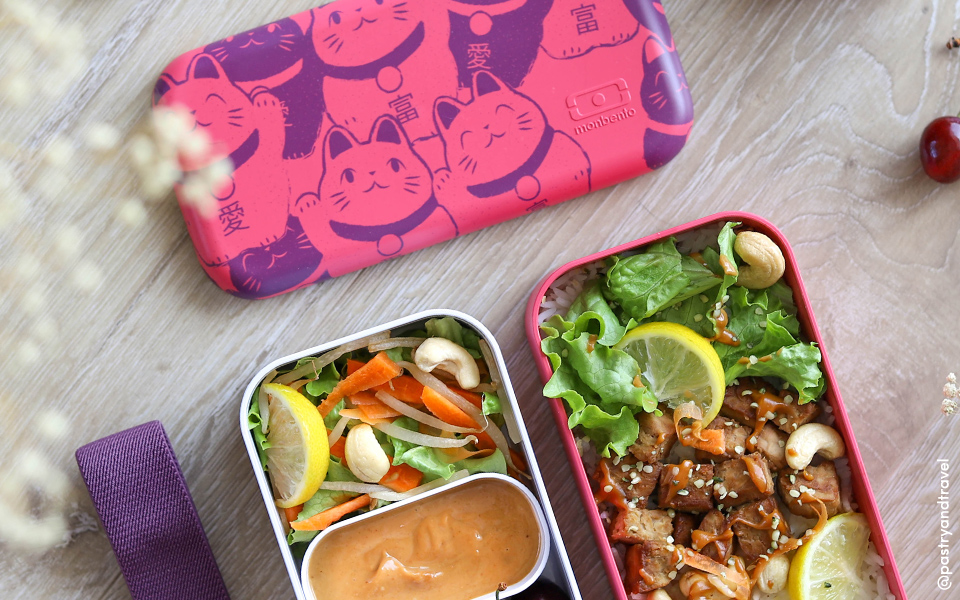 Ingredients
For the main course:
200g of basmati rice
50g of tempeh
1 tbsp of soy sauce
Olive oil
Green salad
1 carrot
Some soy bean sprouts
For the peanut sauce:
2 tbsp of peanut butter
1 tbsp of savory soy sauce
1 tbsp of sweet soy sauce
1/2 squeezed lime
For the cakes:
1 tbsp of matcha green tea powder
50g of butter
25g of brown rice flour
75g of powdered sugar
50g of almond powder
100g of plain soy yogurt
Some cherries
Instructions
For the main course: In a saucepan, bring water to a boil and add a pinch of salt. Add the rice and let it cook for 10 minutes. Drain and set aside. Cut the tempeh into even-sized cubes (approximately 1cm). In a saucepan, add a drizzle of olive oil. When it is warm, add the tempeh cubes and cook them at medium heat. Flip the cubes regularly to toast them evenly. Add the soy sauce and let caramelize for a few minutes. Fill your first bento container with cooked rice, then add the tempeh and some salad leaves. Then, prepare the small Thai salad. For that, cut the carrot into strips using a mandolin and mix with salad and soy bean sprouts. For a perfect and tasty experience, you can add a drizzle of soy sauce. To make the peanut sauce that will go perfectly with this dish, mix all the ingredients and add a drizzle of water little by little until a smooth, creamy texture is obtained.   For the dessert: Preheat the oven at 180°C. Mix the flour, icing sugar and almond powder. Then, add the melted butter and plain soy yogurt and mix well. Add the matcha green tea powder and some pitted cherries cut in half. Cook the mixture in muffin cups for 15 to 20 minutes. Unmold and let cool.
Presented products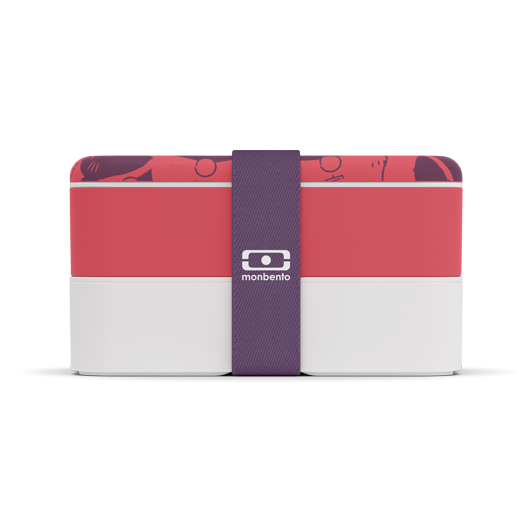 MB Original graphic Neko
Buy now