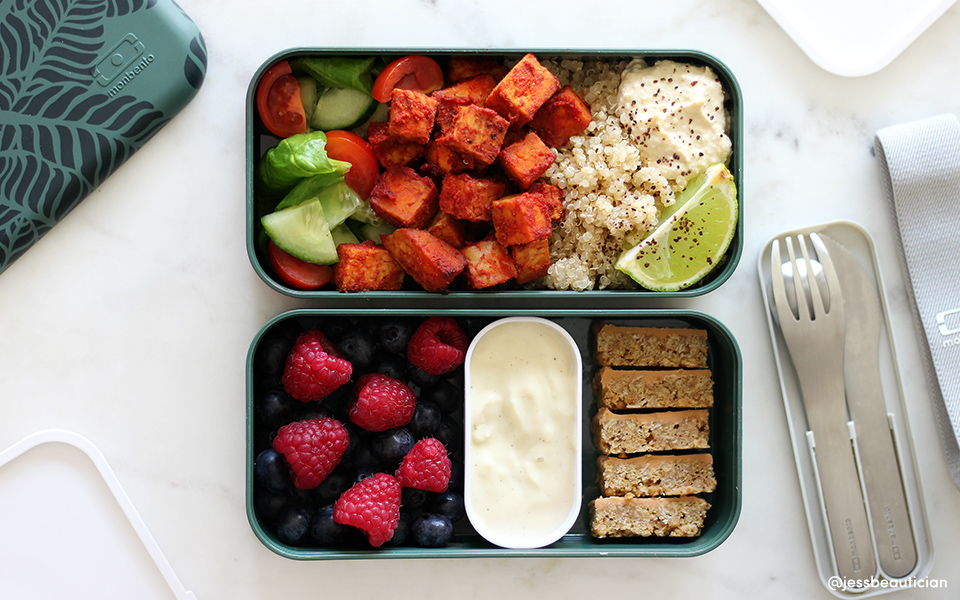 Ingredients
For the smoky marinated tempeh:
100g block tempeh
1/2 tbsp tomato puree
1/2 tbsp red wine vinegar 1 tbsp maple syrup
1/2 tbsp soy sauce
1 tsp smoked paprika
1/2 tsp onion granules
1/2 tsp garlic granules
A pinch of cayenne pepper
Salt
Pepper
For the quinoa:
1/4 cup uncooked quinoa
1/2 vegetable stock cube
1 tsp olive oil
Salt
Pepper
For salad:
Handful lettuce, shredded
4 cherry tomatoes, sliced
1 small piece of cucumber, sliced
Wedge of lime
3 tbsp hummus
1/4 tsp sumac
Snack: Raspberries, blueberries, vanilla soya yoghurt and oat snack bar
Instructions
Prepare the smoky marinated tempeh: Boil the block of tempeh in a pan of water for 10 minutes then pat dry with a clean kitchen towel. Once cool, cut the tempeh up into even sized cubes. Make the marinade by adding all of the ingredients together in a bowl then whisk until smooth and well combined. Place the tempeh cubes in an oven dish then pour over the marinade. Mix the marinade through the tempeh until the cubes are well coated then spread them out evenly, cover and place in the fridge to marinade for 1 hour. After an hour, place the Smoky Marinated Tempeh in a pre-heated oven for 25 minutes until caramelised and deep in colour. Remove from oven and leave to cool.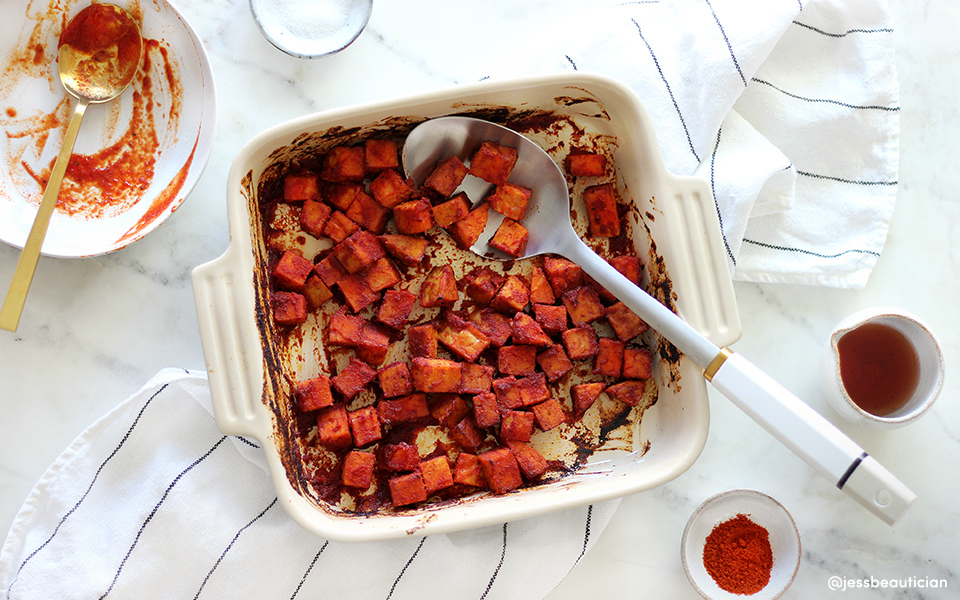 Prepare the quinoa: Rinse the quinoa in a sieve under cold running water and drain well. Place in a pan with 1 cup of boiling water and crumble in the stock cube. Bring to a boil, then reduce the heat to a gentle simmer, cover and leave to cook for 20 minutes. Once cooked, remove from the heat and leave to sit for 10 minutes before fluffing with a fork. Drizzle in the olive oil, season with salt and pepper, and fluff again.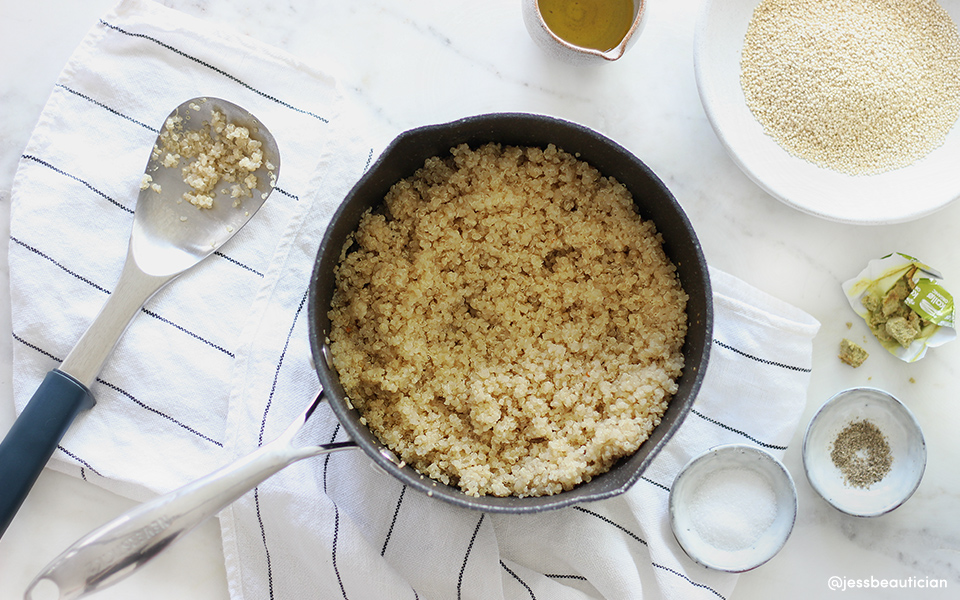 Place the Smoky Marinated Tempeh in the bento box with the quinoa, fresh salad of shredded lettuce, sliced tomatoes and cucumber, hummus and the lime wedge, then sprinkle over the sumac. Serve with the raspberries, blueberries, vanilla soya yoghurt in the food cup and an oat snack bar.
Presented products