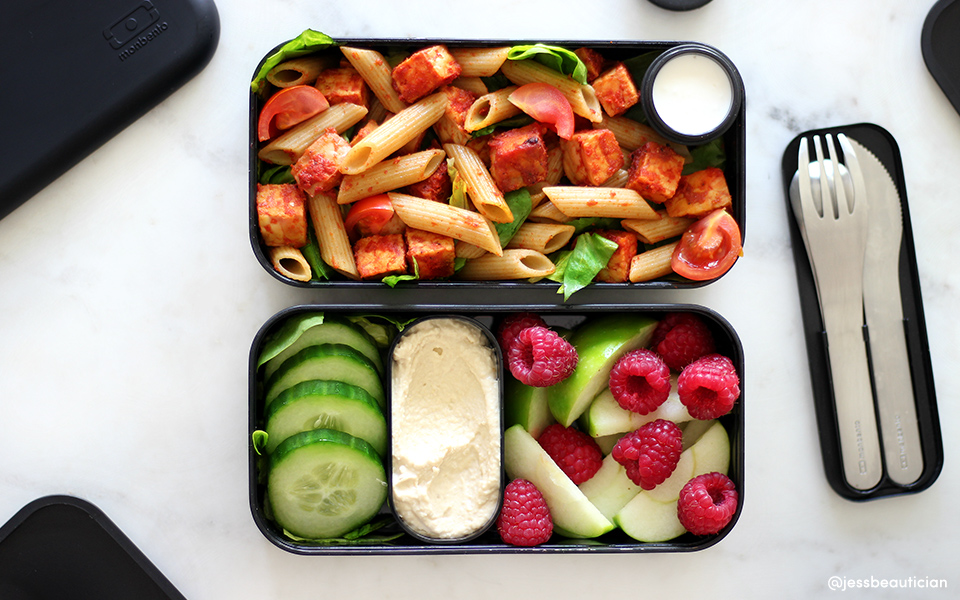 Ingredients
For smoky Marinated Tempeh:
100 block tempeh
1/2 tbsp tomato puree
1/2 tbsp red wine vinegar
1/2 tbsp maple syrup
1/2 tbsp soy sauce
1 tsp smoked paprika
1/2 tsp onion granules
1/2 tsp garlic granules
A pinch of cayenne pepper
Salt
Pepper
For pasta:
1/2 of penne pasta
2 lettuce leaves, shredded
4 cherry tomatoes, sliced
2 tsp vegan mayonnaise
2 tsp lemon juice
Cucumber rings
Hummus
Sliced apple
Raspberries
Instructions
For smoky marinated Tempeh: Boil the block of tempeh in a pan of hot water for 10 minutes then pat dry with a clean kitchen towel. Once cool, cut the tempeh up into even sized cubes. Make the marinade by adding all of the ingredients together in a bowl then whisk until smooth and well combined. Place the tempeh cubes in an oven dish, then pour over the marinade. Mix the marinade through the tempeh until the cubes are well coated then spread them out evenly, cover and place in the fridge to marinade for 1 hour. After an hour, place the Smoky Marinated Tempeh in a pre-heated oven (180°C) for 25 minutes until caramelised and deep in colour. Remove from oven and leave to cool.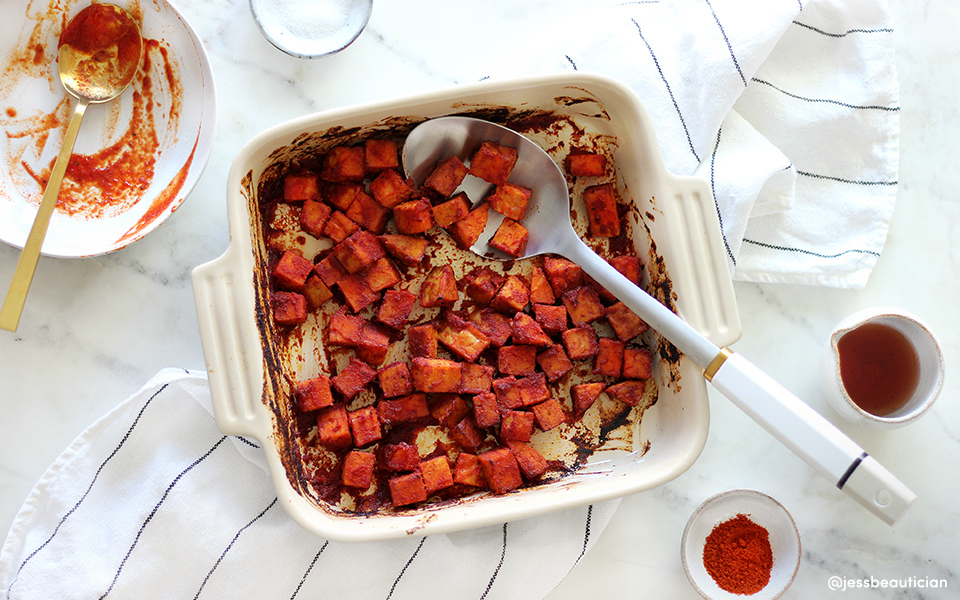 For the pasta: Cook the pasta according to the instructions on the package. Set aside. Mix the pasta with the Smoky Marinated Tempeh. Add in the shredded lettuce and tomatoes, and mix through again. Combine the vegan mayonnaise and lemon juice together to form a Lemon Mayonnaise Dressing for the pasta and place in a MB Temple M sauce cup. Serve with cucumber rings and hummus in the food cup. Add sliced apples and raspberries as a snack. Tip: dip the apple slices in lemon juice to prevent them from discolouring.
Presented products