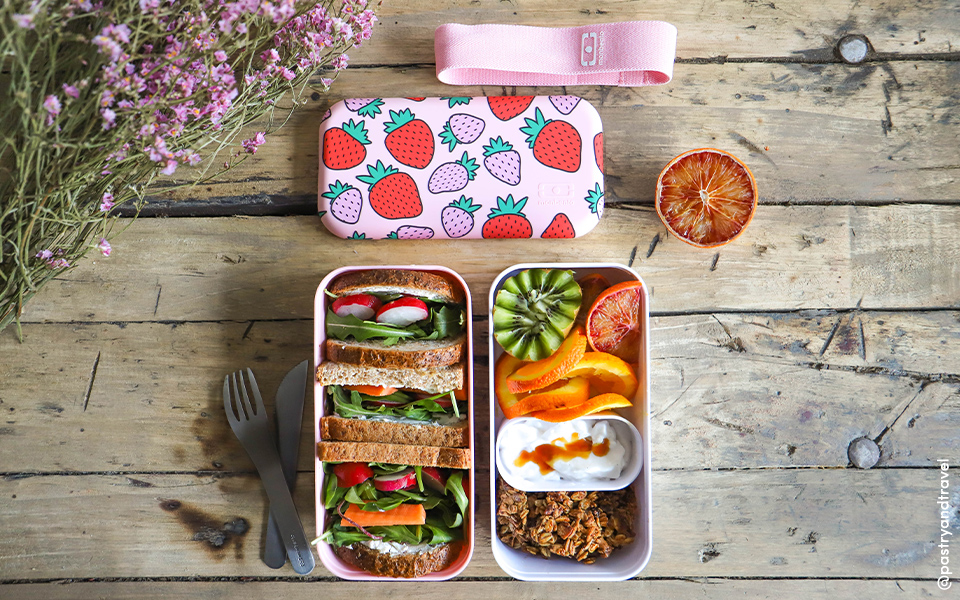 Ingredients
Ingredients for an MB Original bento box:
For sandwiches:
- 4 slices of wholemeal bread
- 20g of cream cheese
- A few shoots of lamb's lettuce
- 4 radishes
- 1 carrot
For cereal bars :
- 100g oat flakes (large size)
- 50g coconut sugar syrup
- 2 Tbsp of sunflower oil
- 1 tsp of cinnamon
- 1 handful of flaked almonds
- A pinch of salt
Instructions
For the first compartment:
Cut the slices of wholemeal bread in half horizontally.
Spread the slices with the cream cheese.
Wash the carrot slice it using a mandolin.
Wash the radishes and cut them into slices.
Form your sandwiches by adding salad, radish and carrot pieces between two slices of wholemeal bread.
Place them in one of the compartments of your MB Original bento box and add a drizzle of balsamic vinegar.
For the second compartment :
Make the cereal bars by mixing all the ingredients until you get a sticky dough.
Spread the dough in a rectangular mold and smooth the surface with a spatula to remove as many air bubbles as possible.
Bake for 15-20 minutes at 180°C to obtain a nice golden color.
Remove from the oven and cut into bars.
Let it cool before placing them in your bento box.
Keep the other cereal bars in an airtight container.
Serve with half a kiwi and a blood orange.
Presented products