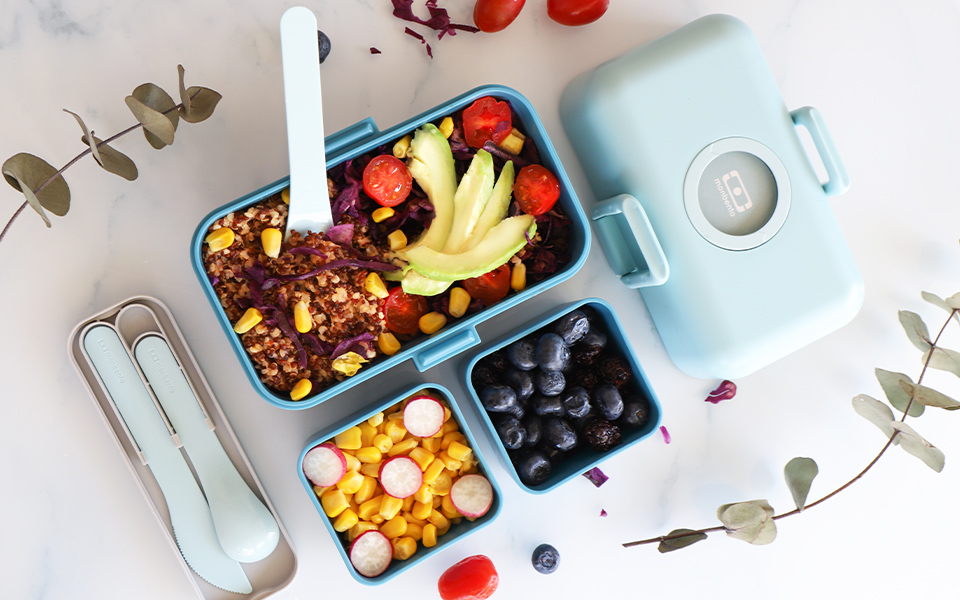 Ingredients
For 2 MB Tresor bento boxes:
- 1/2 cup of dry quinoa
- 1/2 cup of dry millet
- 200mL tomato sauce
- 2 pinches of Provence herbs (optional)
- 1 tin can of 285g of corn
- a few strips of red cabbage
- some cherry tomatoes
- 1/2 avocado
- some radishes cut into tin slices
- blueberries
- salt
For the dressing:
- 3 Tsp of olive oil
- 1 Tsp of lemon juice
- 1 tsp of grainy mustard
- 1/2 tsp of liquid honey
- salt
Instructions
Start by pouring the quinoa and millet in a saucepan with 2.5 cups of salted water. Bring the water to a boil and cook for 10 to 12 minutes.
Drain your cereals and let them cool before adding the tomato sauce and some Provence herbs (optional). Then add 2 Tsp of corn, red cabbage and some tomatoes. Slice the avocado and place it on top.
Spread the corn and a few pieces of radish in one of the food cups of each bento box.
Mix all the dressing's ingredients and pour 1 Tsp over the corn and radish slices. Keep the rest of the dressing for another salad.
Place the blueberries in the other food cup of each bento box.
Enjoy!