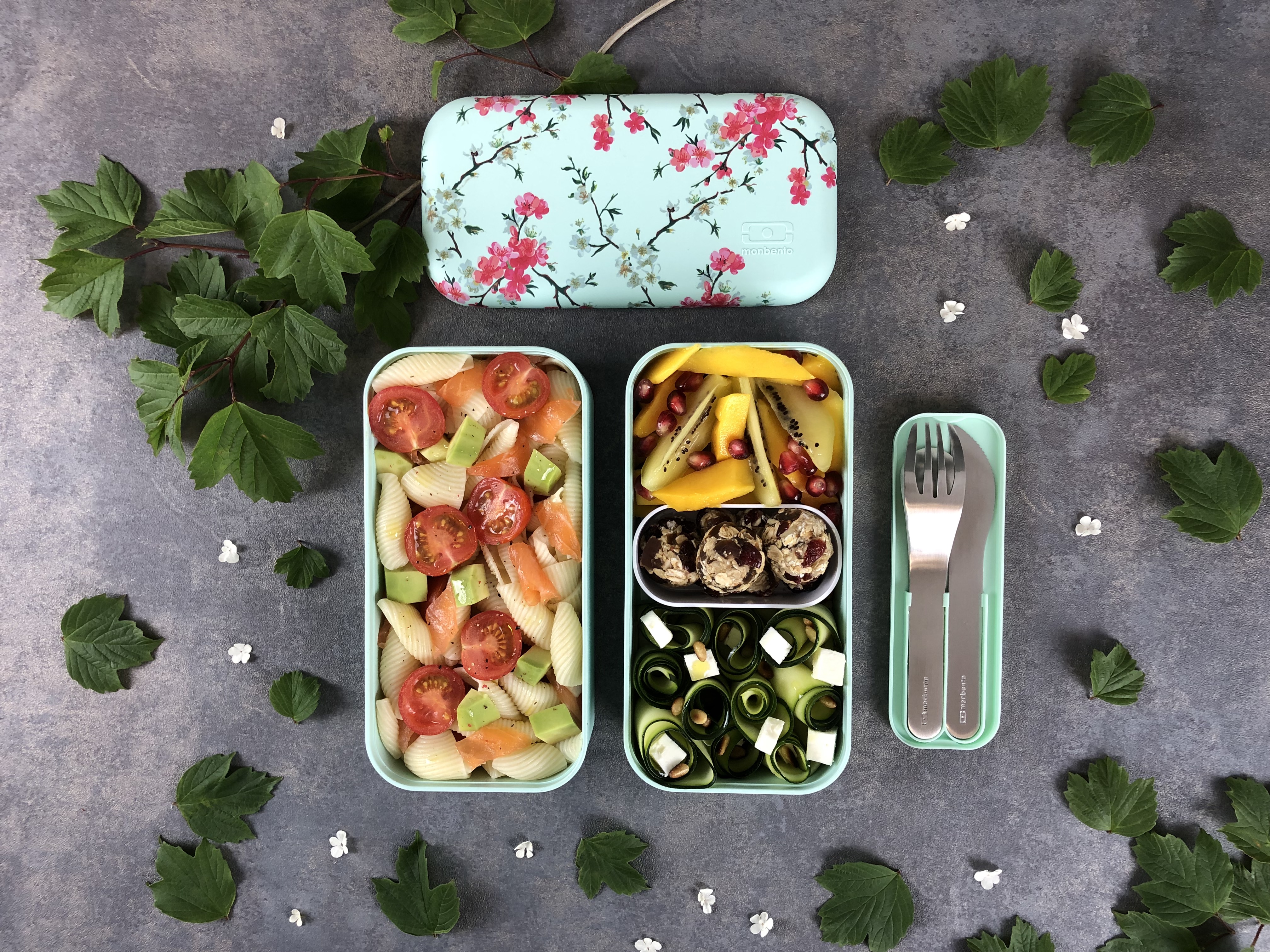 Ingredients
For the zucchini tagliatelles:
- 2 zucchinis
- 25g feta cheese
- 1 lemon
- 1 handful pine nuts
- a bit olive oil
For the pasta salad:
- 200 g pasta
- 4 slices of smoked salmon
- 1 avocado
- about 12 cherry tomatoes
- 1 lemon
- a bit of olive oil
For the exotic fruits:
- 2 kiwis
- 1 mango
- ½ pomegranate
- ½ lemon
For the energy balls:
- ½ cup oatmeal
- ½ cup dates
- 1 handful flaked almonds
- 1 handful cranberries
Instructions
For the zucchini tagliatelles:
Wash the zucchinis.
Cut them in half, then, cut the zucchini in long slices using a peeling knife or a mandolin.
Put the tagliatelle in a salad bowl.
Add the lemon juice in the bowl and mix.
Place in the fridge for about 20 minutes.
Cut small cubes of feta cheese and add them to the marinated zucchini.
In a pan, toast the pine nuts for about 2 minutes (without adding fat).
Let cool. Then sprinkle the tagliatelle with pine nuts.
Add a drizzle of olive oil, salt and pepper.
For the pasta salad:
Cook the pasta according to the time indicated on the bag.
Help them cool with cold water and drain them.
Peel and cut the avocado in 2. Remove the seed, then cut into small cubes. Add the lemon juice.
Cut the salmon into small strips.
In a large salad bowl, mix the pasta, avocado and smoked salmon.
Add a drizzle of olive oil, salt and pepper.
For the exotic fruits:
Peel the kiwis and cut them into thin quarters.
Peel the mango and cut into strips.
Cut the pomegranate in halfs, then remove the seeds.
In a bowl, mix all the fruits: kiwis, mango and pomegranate.
Add the lemon juice. Mix well and place in a cool place.
For the energy balls:
Chop the dates, cranberries and flaked almonds into small pieces.
In a salad bowl, add all the ingredients: oatmeals, flaked almonds, dates and cranberries.
Mix well. Add two or three tablespoons of water (to moisten the mix).
With your hands, squeeze the mixture well and form small balls.