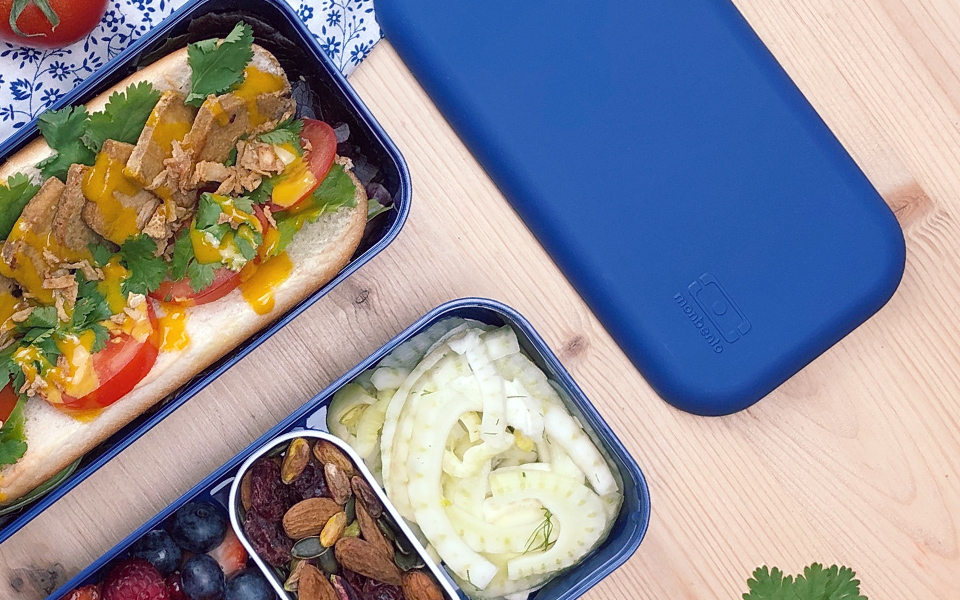 Ingredients
For 2 hot-dogs:
- 2 hot-dogs breads
- 80g to 100g of flavoured tofu (wild garlic)
- Coriander
- 1 tomato
- 2 pinches of crispy onions
- 1 Tsp of olive oil
- Salt, pepper
For the seasoning:
- 1 Tsp mustard
- 2 Tsp honey
- 1/2 Tsp turmeric spice
- Salt, pepper
For accompaniments:
- 1 fennel
- 2 tsp of olive oil
- 2 tsp of lemon juice
- 1 pinch of dill
- Seasonal fruits
- 1 handful of a nut mix
- Salt, pepper
Instructions
For the mustard seasoning:
Mix all of the ingredients together until getting a smooth texture.
For the hot-dog:
Cut the tomato into slices.
Toast the bread.
Cut the tofu into 2mm thick slices. Fry the tofu in a hot pan, 1-2 min on each side.
Place the slices of tomatoes on the bread, then the tofu. Add coriander according to your taste, then the mustard seasoning and fried onions.
For the sides:
Serve with finely chopped fennel, seasoned with a mixture of lemon juice, olive oil, a little salt and pepper.
Finish with the dessert: a fruit salad and a handful of a nut mix.