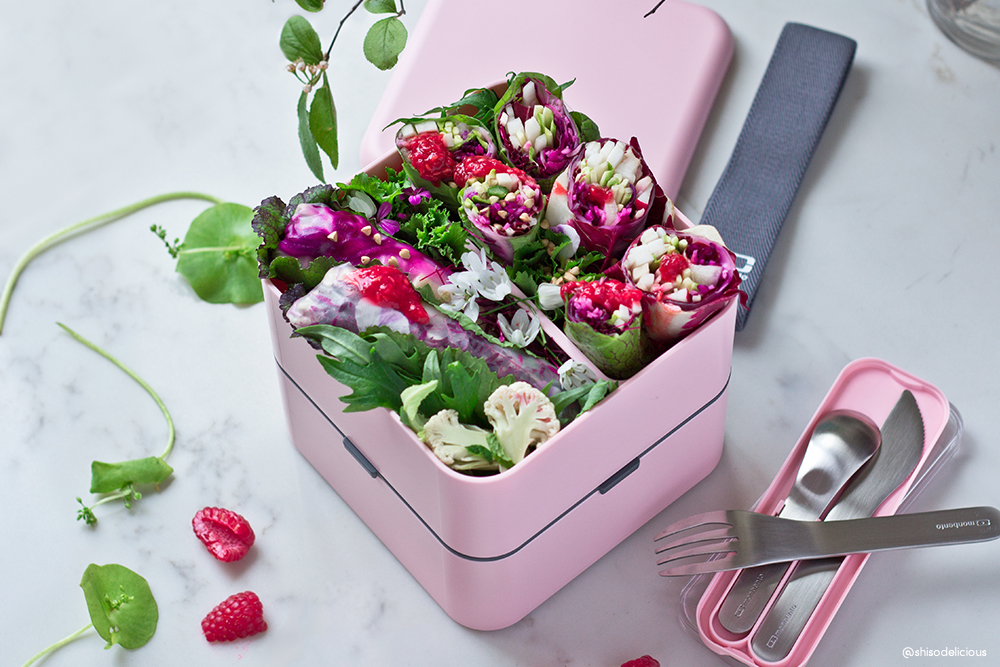 Ingredients
Rice paper rolls ingredients:
5 rice papers
5 flat, thin salad leaves
A few handfuls thinly sliced raw vegetables(red cabbage, courgette, radish, turnip and candy stripe beet or any non-juicy vegetable).
Dipping sauce ingredients:
3-4 raspberries
a pinch of sugar (for example coconut palm sugar)
a pinch of salt
1/2 teaspoon balsamic vinegar
Instructions
Rice paper rolls method:
1. You need to make one roll at a time.
2. Heat a clean frying pan filled with water, use this water to briefly soften a rice paper.
3. Place the rice paper on a damp chopping board and lay a small handful of vegetables at the lower half of the sheet.
4. Fold the bottom then the sides of the sheet over the filling, then roll tight away from your body.
5. Rice rolls will normally stick together when packed, but if you finish each roll by wrapping it in a big salad leaf, they won't.
6. Either pack as they are, or cut in half with a sharp knife then pack.
Dipping sauce method:
1. Mash the raspberries with sugar and salt in a small bowl, add the balsamic, mix and transfer to your MB Temple.
Credit: Image by @shisodelicious