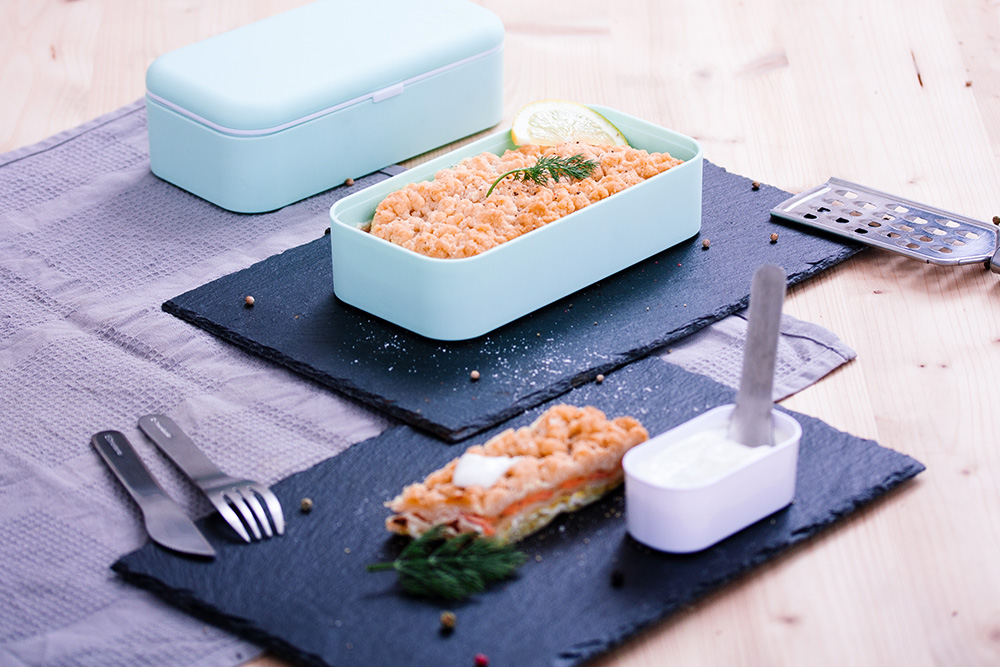 Ingredients
Ingredients for 1 mould MB Silicase 3/3:
For the lasagna:
3 lasagna noodles
4 slices of smoked salmon
2 leeks white only
75g of fresh goat cheese
3 tablespoons of thick cream
Dill
Salt, pepper
For the crumble:
4 tablespoons of flour
4 tablespoons of grated parmesan cheese
25g of butter
Instructions
Preheat the oven at 200°C.
Rinse the leeks, slice thinly and cook (we used microwave steam cooking – a very quick solution ;-) but you can also cook them in a pan with a dash of olive oil).
Salt and pepper.
Mix the fresh goat cheese with the cream and dill.
Knead by hand the flour, parmesan cheese and butter: the dough must be grainy
Tip: take the butter out of the refrigerator 10 minutes ahead or melt a few seconds in the microwave.
Arrange the lasagna in a MB Silicase mould 3/3 following this order:
- Lasagna
- White leeks
- ¾ of the fresh goat/ thick cream/dill mix
- lasagna
- salmon
- lasagna
- ¼ of the of the fresh goat/ thick cream/dill mix
- crumble
Put in the oven for 30 minutes: the crumble must appear golden.
Let it cool down before unmoulding on a plate. You can transfer the lasagna in your MB Original bento box then.
Be careful not to leave your lasagna unattended too long at lunchtime: its golden crust and its "smell" of homemade are likely to attract the interest of your colleagues!