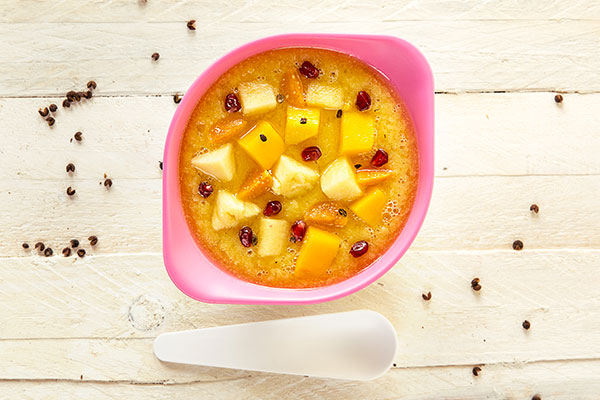 Ingredients
For 2 MB Lib
For the syrup:
500 ml mineral water
150 g sugar
20 grains of Timut pepper (pepper with a citrus flavour)
1 stick of citronella
1 small bulb of ginger
Zests of orange and lime
4 baby bananas (frecinette)
2 large slices of pineapple
20 cape gooseberries
1 ripe mango
½ pomegranate
Instructions
For the syrup: boil all the ingredients for 2 minutes. Cool, then add the zest of one orange and one lime. You can also add herbs or flowers to this spicy syrup.
Peel and dice the fruits, slice the cape gooseberries in two (set a few pieces aside for the garnish).
In a blender, blend all the chopped fruits and add the syrup after filtering it. Blend until you obtain a foamy, smooth consistency.
Pour into the MB Lib and garnish with the remaining pieces of fruits, pomegranate seeds and a few crushed grains of pepper.
Serve cold.
All kinds of fruit combinations are possible, depending on the season and your taste.
This is a simple, fruity dessert that's chock full of vitamins!