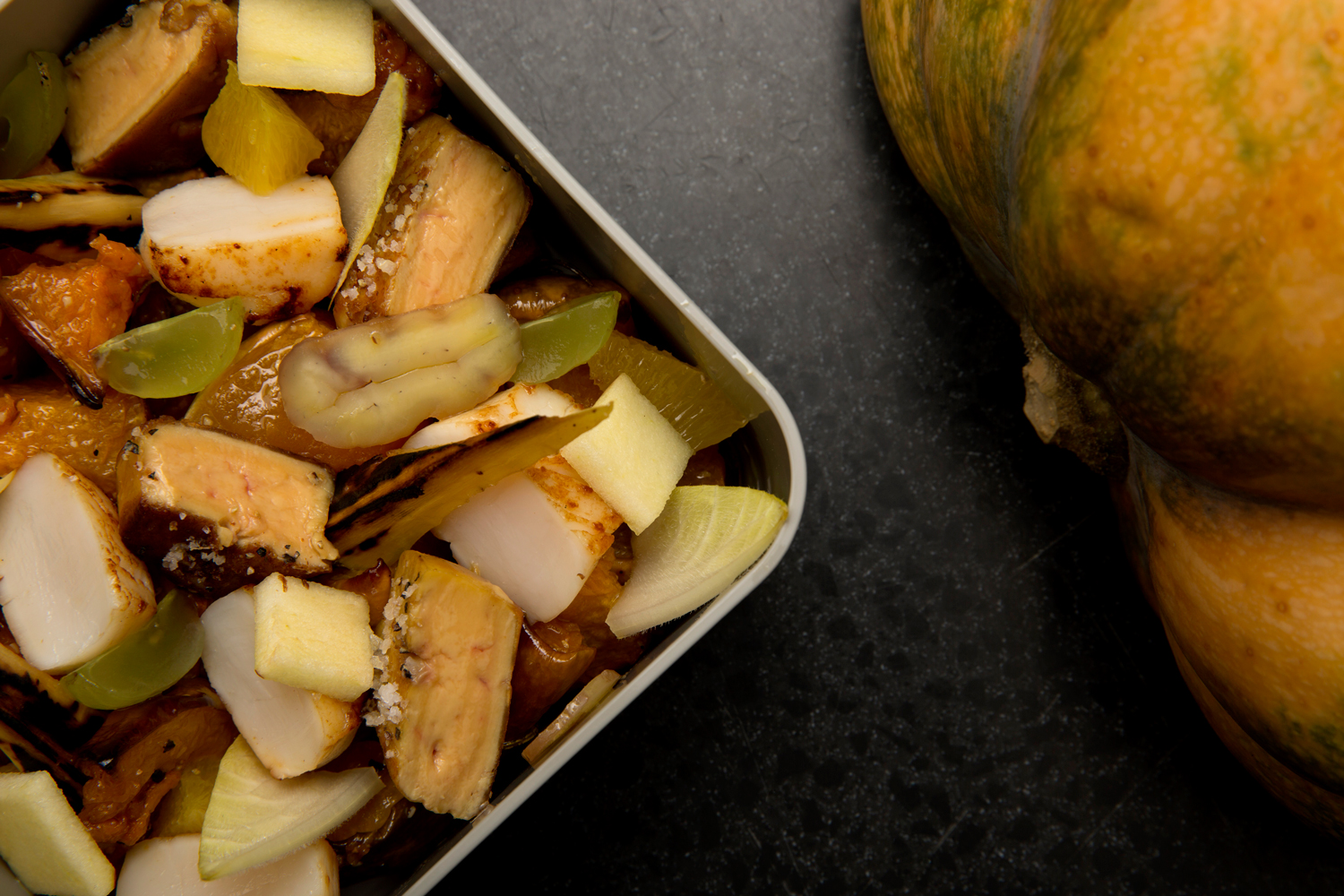 Ingredients
3 Scallops
50 g raw foie gras (duck or goose liver)
1 parsnip
150 g of pumpkin
1/2 red apple
1 orange + zest
3 chestnuts
1 head of endive
4 white raisins
1 clove of garlic
1 sprig of rosemary
toasted colza oil
balsamic vinegar
Salt (e.g. fleur de sel)
Pepper
Instructions
Wash and cut the pumpkin into large chunks. Place them in an oven-safe dish, sprinkle with a dash of oil and season with the salt (fleur de sel), the orange zest, the rosemary and the minced garlic. Cook at 120°C for 1 hour and a half.
Peel the parsnip and crack the chestnuts to open. Cook until soft in boiling hot water with a dash of salt for 20 minutes. Strain excess water and set aside.
Peel the orange with a zester, take the zests and finely chop them.
Peel and slice the apples into cubes. Peel and cut the raisins in fours. Remove the chestnuts from their shells and mince them with a mandolin.
Heat a non-stick pan and cook all the sides of the parsnip after slicing it into 4 large pieces.
With the same hot pan, take the raw foie gras (duck or goose liver) and dice into cubes. Cook for 3 minutes approximately. Season well with salt and pepper.
With the fat from the foie gras, rapidly brown the scallops (1 minute per side) and cut them in half.
In the bento box, mix all the ingredients together, put the endives, apples & chestnuts on top and then finish with a salad dressing made from balsamic vinegar, orange juice or toasted colza oil.
Enjoy the salad cold or warm (3 minutes in the microwave to heat).