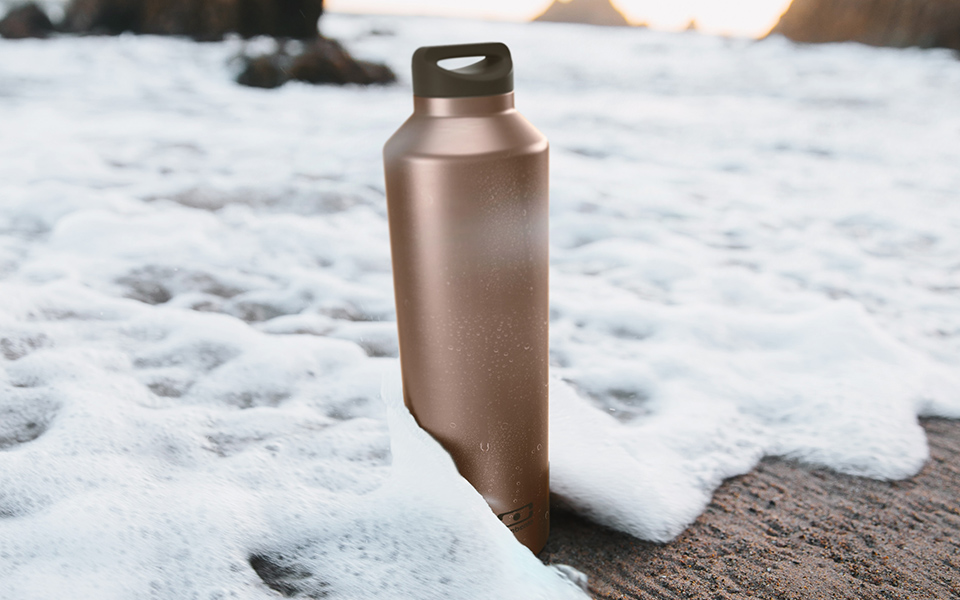 Summer vacation is finally getting closer! Whether you're a July or August vacationer, you need to relax and unwind! But be careful: going on vacation is no reason to lose the good habits you've acquired throughout the year! At monbento, on vacation or at the office, our main priority remains to #goreusable! A more responsible lifestyle for successful vacation!
#1 – We choose environmentally friendly meals
Whether you're thirsty or hungry; whether you're having a picnic on the beach or in the mountains: opt for monbento products! What's better than a reusable bottle to keep you hydrated during your mountains hike? Your MB Steel insulated bottle will even keep your drinks cool for up to 12h. Besides staying hydrated, you can have meals wherever you are and eat fresh and healthy food in every situation thanks to a bento box. Nothing better for picnicking on the beach!
#2 – We favor local ingredients!
There is no better way to discover local customs and traditions than on vacation! Markets are a good opportunity to discover fresh products and add brand new flavors to your bento boxes! Picnic, tasteful appetizers, fresh fruit salad, with friends or your loved ones: every occasion is good for having a great time!
#3 – Say no to unnecessary waste!
Straws and plastic bags have become the pet peeves in coastal regions! In fact, every year, nearly 1 billion straws and 5 trillion plastic bags are thrown away in the world! Most of them are not recycled and end up in the seas and oceans! So, to protect your beautiful vacation scenery and be able to enjoy it for many years to come, order a cocktail without straws and put your souvenir gifts in your backpack or tote bag! And above all, leave the shells on the beach: these small living creatures contribute greatly to biodiversity and create enthusiasm among kids and adults.
#4 – We consider green transportation!
What would you think about vacation with no car? Ecological and responsible, choosing a sustainable means of transport such as biking, longboarding or walking allows you to discover your vacation spot from a different angle! For the most adventurous, it is also possible to try new fun and hi-tech means of transport that have probably already caught your attention. Scooters, hoverboards, gyropods or unicycles: it's the perfect opportunity to discover a new hobby and a new talent!
And as the population can be multiplied by 10 during summer in seaside areas, every action is important! So, we continue to sort our waste for recycling!
No more excuses, you now have all the elements for responsible vacation! And you, what are your good habits during vacation?  😉