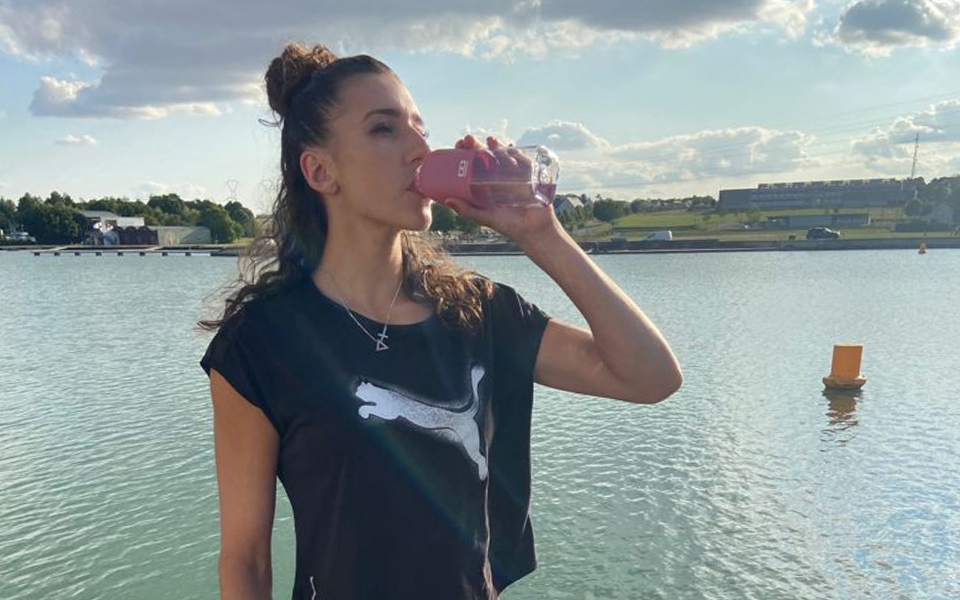 Hello the monbento Family! I'm back to share with you my INCREDIBLE experience, training and competition that took place last month in Japan! To tell you this story, I have divided my article according to the places we stayed in throughout our adventure. During our preparation period, we stayed in our "Covid-19 bubble". We were frequently tested and could not meet people other than those of the "France group" (including players, technical staff, medical staff) or other teams in the same situation.
June 22, 2021 – July 1, 2021, Poitiers, France.
After the Qualifying Tournament in Graz, Austria, which led us to participate in the biggest international competition, we had two weeks to rest at the beginning of June, after a tiring tournament and a 5X5 basketball season with my club in Bourges. Then, we headed to Poitiers CREPS (regional sports center) where we stayed for a little more than a week for intensive training. We also played friendly games against the Russian team (vice-champion in Tokyo). This practice period ended with the biggest women's 3X3 competition that we won, beating the same Russian team in the final game. I was lucky enough to be named MVP during this championship.
After that, we took a few days off again before starting the last step in our preparation.
July 7, 2021 – July 16, 2021, Paris, France.
The last stage before the competition began started at the INSEP (France's National Institute of Sport, Expertise and Performance) where many other athletes were also practicing. We were 8 players training hard, playing friendly games since we had no official games planned. This aspect was actually the hardest to deal with since, inevitably, we wanted to be 100% ready for this competition and couldn't lose our game level. That's why we also played several games during a whole weekend against a men's team from Paris. During the last week at INSEP, we acclimatized ourselves to Japan's humidity and temperatures by adding to our schedule 1h in a thermo room, in addition to our twice-daily practice sessions.
Thermo room? What is it?
It's a special room that helps athletes acclimatize their body to the weather conditions they will face during their competition.
For example, this was our procedure:
Days
MONDAY
TUESDAY
WEDNESDAY
THURSDAY
FRIDAY
Average temperature and humidity

38° C (100.4°F) / 75% humidity

Before/after session protocol
Taking our temperature throughout the session (Monday and Friday to compare the evolution before and after the acclimation procedure).

–        Measuring our weight before and after the thermo room

–        Weighing our water bottle before and after the thermo room

–        Monitoring our heart rate throughout the session

–        Measuring our level of comfort in these conditions before and after the sessions, and every 15 min in the thermo room, compared to the intensity of efforts.

Sweat sample (Monday and Friday, to compare the evolution before and after the acclimation procedure).

1 h in the thermo room
15 min seated

15 min cycling at about 80RPM

15 min seated

15 min cycling at about 80 RPM

1h seated
15 min seated

30 min cycling at about 80RPM

15 min seated

1h seated
15 min seated

15 min cycling at about 80RPM

15 min seated

15 min cycling at about 80 RPM
Tiktok : https://vm.tiktok.com./ZMRJaVDEo/
Personally, the first sessions of this procedure were a bit difficult because of the two trainings per day, but it really got better at the end of the week: it was easier to handle the heat and I was sweating less.
On Friday, we flew to Japan, by night, with a lot of other French athletes who were leaving, just like us, to get used to Japan's weather and practice in real conditions before the competition began.
July 17, 2021- July 22, 2021, Oshino, Japan.
When we landed in Tokyo, we stayed for about 5 hours at the airport to go through all the controls, get our accreditation, take a PCR test (in Japan, we had to take daily salivary tests), and wait for our results to make sure the whole basketball "France group" was negative. Once all these steps were done, we went to Oshino – which is 2 h away from Tokyo – by bus. We stayed in a hotel at the bottom of the Mount Fuji, in front of the Yamanaka lake.
What a funny coincidence for someone coming from Auvergne, land of volcanos, traveling to another country to stay so close to a volcano! 😊
Every morning, we used to wake up in the land of the rising sun, with a stunning view on the lake and Mount Fuji! Surprisingly, in this city, weather was less hot and humid. We kept practicing in the facilities of one of the biggest industrial robot companies in the world, covering almost every single existing field (from robots used to build cars to robots used to lacquer guitars, for example). Because of the health situation, we could not go out, visit the city or meet locals in Oshino. Nevertheless, many of them, especially kids in schools, sent us small gifts, supporting videos, etc.
July 22, 2021 – July 30, 2021, the Village and Tokyo Bay.
The day before the opening ceremony, we left Oshino where we received a warm welcome, and headed to the Village. We discovered the building of the French delegation, the self-service restaurant, and all the infrastructures built for the event. The Village was built on a former site of center waste for sorting and all the facilities will stay to help develop this part of Tokyo. In the French building, we shared a three-roomed apartment with my 3 teammates, which helped us stay focused together but also do videos, attend meetings and sessions with our physiotherapist in an easier and faster way.
MORNING
AFTERNOON / EVENING
July 23, 2021
Last practice before the competition. We discovered the amazing place where we would play the next 5 days. Colorful, 7.000 seats, the 3×3 field was built on the Tokyo Bay, next to the skateboarding and climbing facilities, about 30 minutes away from the Village.
8pm – Leaving for the opening ceremony. Around 10pm – Parade, before heading back to the Village. Did you see me? I was on the right, with my phone flash and a red jacket.

Did you notice that we were representing the French flag with our blue, white and red jackets?

I had chills as we started to walk in the stadium singing, the French national anthem. An unforgettable moment in an incredible place, despite the stadium being empty and the parade moving fast.

July 24, 2021
D-day, beginning of the competition, muscle toning session
–        USA – France

In front of the President Mr. Macron and Mr. Blanquer

–        France – Italy

July 25, 2021
Muscle toning session
–        Japan – France

–        China – France

July 26, 2021
Muscle toning session
–        France – Mongolia

–        France – Russia

July 27, 2021
Muscle toning session
–        France – Romania

–        Quarter-final: France – Japan

July 28, 2021
Muscle toning session
–        Semi-final: USA – France

–        Small final game: France – China

July 29, 2021
Packing our bags – Visiting the Village – Shopping
July 30, 2021
Flight to France
My impressions of this competition:
I have never experienced such an intense schedule with 10 games in just 5 days.
I was lucky enough to attend this extraordinary competition at least once in my life.
Nevertheless, I can't help but feel sad and disappointed with the result.
Winning a medal would have been a child's dream coming true. Now that I'm back in France, I realize how lucky I've been to be able to live such an adventure.
I feel lucky I've been able to share this whole experience with my teammates – who represent much more than that to me, they're like my second family – the technical and medical staff.
I feel lucky I was supported every single day by my family, my friends but also by all the people who follow me and followed us during this competition.
I feel lucky to be one of the 3X3 pioneers, because yes, it was the first time this sport was represented in this international competition.
This experience makes me want to go further, it gives me motivation for the future, I want to give everything I have to keep getting better and get ready for the next edition in Paris …