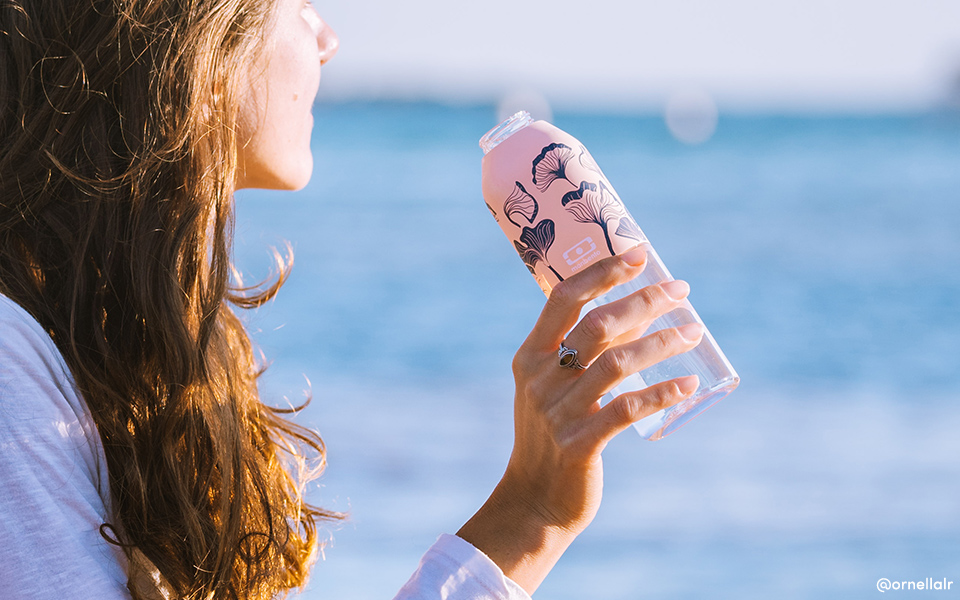 Nowadays, one of the main challenges and concerns we are facing lies on redesigning our lifestyles in order to reduce our environmental impact. On the occasion of the European Sustainable Development Week and during this pandemic period, we take this challenge very seriously and we encourage everyone to choose a 0-waste approach. Favoring reusable products means choosing a more responsible and safer lifestyle!
Why choosing reusable products?
 Today, only 26% of the disposable packaging produced is recycled¹. So why throwing away when reusable options exist? For more than 10 years, monbento has been reinventing on-the-go meals by offering reusable products for your daily tasty breaks.
Using a bento box doesn't only mean rejecting disposable products – it also means choosing to eat better, valuing local products and favoring in-season products. Eating better is good for each of us, but also for the Earth!
But how can we do this? What habits should we adopt? Let us give you a few tips!
 #1 – Choosing a bento box means favoring homemade meals, choosing where your food comes from and taking care of the environment!
 For your homemade meals, think local! Whenever it's possible, make local purchasing in markets your first choice and avoid overpackaging products.  Our advice? Try to find a farm close to your house that offers you to directly come and pick your own produce. Visit some farmers markets more often to find fresh and local fruit and vegetables, but also other goods (clothing, baked goods…) sold directly by craftsmen themselves! And if you don't have time to visit those farms/markets, talk about it with your friends and colleagues: maybe you can organize some common orders that someone in your group will pick up for you.
You don't have a bento box yet? Once you'll have one, always keep it with you, even if it's empty: it can be filled for lunch at your favorite restaurant!
 #2 – The reusable bottle becomes your best partner!
 Did you know that a disposable bottle requires 3 to 7L of water to be produced²? Given this information, no more hesitation:  we say NO to bottles that will end up in the trash can and YES to reusable bottles!
At monbento, we believe that each adventure deserves its bottle! For a light and transparent bottle, we recommend the MB Positive, that will easily fit in your bags thanks to its square shape. To keep your drinks cool or hot for up to 12 hours, the MB Steel or MB Pop insulated bottles will follow you every day wherever you go. Choose the size you prefer!
The little extra? Bring some flavor to your water by adding fruit and herbs! Only a couple of minutes needed to create an even refreshing drink. At the end of summer, we love to add mint and blueberries in our MB Positive bottle!
#3 – No more disposable cutlery!
 Did you know that disposable dishes create a huge amount of waste per year: several kilos for a single person³? This fact is even more striking during this particular period, when everyone is encouraged to be more vigilant! The solution? Use your own dishes, no matter where you are! That way, you will respect the environment, stay safe and make your on-the-go meals more convenient. Make sure you always have your own cutlery set with you, so that you'll be ready for any surprise meal situation!
Thanks to their compact size, the MB Pocket on-the-go cutlery set can be easily slipped into your bag to follow you on your wildest adventures!
 With a clever mind and all the reusable accessories needed, it is actually easy to limit our environmental impact and eat better every day!
Take advantage of a professional athlete's advice to eat better while limiting your waste! Our ambassador, Laëtitia Guapo, world #1 in women's 3×3 basketball shares her habits and tips to stay in shape and take care of the environment on our blog.
Sources:
¹ According to the 60 millions de consommateurs French magazine.
² Six unusual uses of plastic bottles – Arte – January 23, 2016.
³ https://www.lesechos.fr