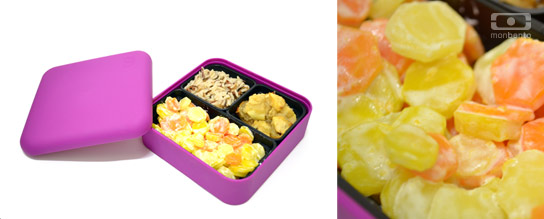 Today I made a very simple and tasty bento.
We might feel a little guilty when seeing what was on my menu recently. Last week I only ate burgers, pasta and sandwiches. Sometimes we are unable to eat balanced and healthy… but it's never too late to change! Here is a menu with colors and vitamins!
Carrots are in season. I chose 3 colors of slightly sweet carrots: white, yellow and orange. I boiled them and added a bit of fat free sour cream. It's also important to have some starchy food to be in good shape all day long. I had enough pasta the last few weeks, so I used rice as a good alternative. This mix of black, wild and white rice was delicious.
And the best was the apple and vanilla crumble. This is one of my favorite desserts. You only need the following:
– 2 apples
– 50g – 2 oz of butter
– 55g – 2 oz of flour
– 55g – 2 oz of sugar
– A little bit of salt
– ½ pod of vanilla
Butter the mold. Peel and cut the apples. Then cut the vanilla length-wise.
In a bowl, dice the butter. Mix it with your fingers with the flour, sugar and salt until it becomes grainy. Put this mixture on top of the apples. Cook it in the oven it for 30-45 minutes (180°C – 356°F).
Yummy!