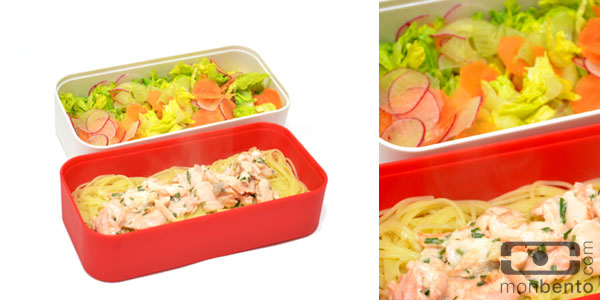 Salmon is great in salads, hot, cold or with pasta. There are many ways to cook it.
With pasta, it is easy to make a very good dish in a short time.
For this bento, you'll need:
– a piece of salmon
– pasta (capelini's cooking time is only 3 minutes)
– chives (fresh or dry)
– 2 Tbsp of yogurt
– 2 Tbsp of sour cream
– 1 carrot
– 2 round radishes
– 1 cucumber
– green salad
– lemon juice
– salt and pepper
Start by heating some water for the pasta. At the same time, cut the salmon into slices.
Mix the yogurt, cream, some chives, salt and pepper in a bowl.
Start cooking the salmon in a pan with a bit of olive oil.
Cook the pasta.
Add the cream and yogurt mix to the salmon before it is completely cooked.
Add a bit of oil to the pasta so it doesn't stick together when cooked.
Serve the pasta with the salmon on top. Press a bit of lemon juice on top of it.
For the salad, you only have to use a mandolin slicer to cut very thin slices of cucumber, radish and carrot.