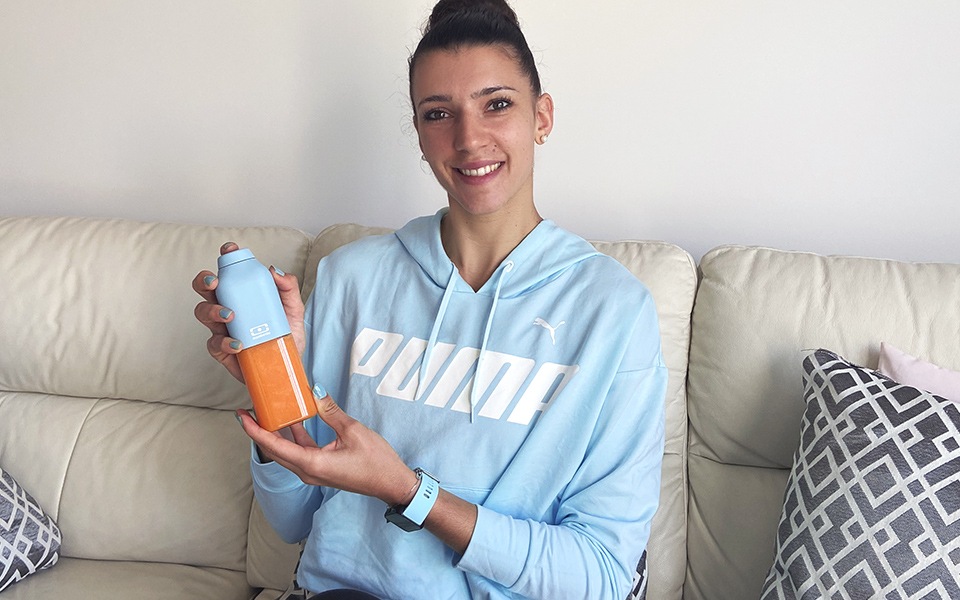 Hi everyone!
I'm joining you during confinement to share my routines and nutrition tips with you.
I'd like to point out that I only get seasonal fruits and vegetables, and, as much as I can, local food from organic farms. I don't have any allergies and I do eat about everything except meat. Last but not least, I cook and bake everything myself and buy as little industrial food as possible.
Each of the tips that I will give you in this article are my advices and they may not be applicable to everyone. I've read quite many studies about nutrition and, as I am a top-level athlete, I make sure I listen to my body as much as possible. Everyone has their own habits, restrictions and it is important to respect them, but most important is to enjoy having good quality food.
Wheatgrass, fruit and vegetable juices, breakfasts and snacks:
First thing when I wake up, I have a big glass of water. Then, I prepare my breakfast: I mix a large tablespoon of wheatgrass in water or in my home-made juice.
In fact, wheatgrass comes from young wheat grains sprouts. They contain a high dose of phyto-nutriments with antioxidant and anti-inflammatory properties all known to protect our body cells and prevent from the risks of disease.
I begin my day with a fruit juice that I prepare with my juice extractor. I think it's the best investment that I have made in the past 3 years ! Generally, on mornings it's an orange, carrot and lemon juice (adjusted to the season). For an MB Positive M reusable bottle, I will need 3-4 carrots (depending on the size), 2 oranges and a lemon to which I add a small piece of ginger and a pinch of curcuma.
I also drink green tea/mate/infusions and eat a seasonal fruit (kiwi, apple, …).I prepare a bowl of muesli or oat flakes mixed with a soy yogurt to which I add some pumpkin seeds, hazelnut, almonds or others seeds like chia seeds, flax seeds, etc. I ground the seeds before mixing them with the yogurt. That contributes to a better body assimilation.
All this? Yes! Breakfast is for me the most important meal of the day and I like to get up early, to take time to prepare and enjoy it as it should be!
Later in the day, for my snacks or pre-meal juices, I mix fruit with vegetables such as apple, beet, carrot and celery. When I have a juice before a meal, I take it at least 30 minutes before so that my body assimilates it as well as possible and begins its digestion process.
Most of the time, my meals include: a starter, a main course with vegetables (if I have starch it is always wholemeal: wholemeal pasta, wholemeal rice…), a dairy, and a fruit for dessert or a healthy homemade dessert. For dairy, I've been turning more and more to goat milk or soy yoghurts. But, as I live in Auvergne (France) it is really difficult for me to do without good local cheeses made from Auvergne cows' milk.
Food supplements:
At lunch, in my salads for example, I add spirulina – in powder or flakes – Identified as a "super-food", it has antioxidants, antidiabetic and immunostimulant properties. Many research have shown that this seaweed contains between 55% and 70% protein. It is one of my main sources of protein along with eggs, tofu, pumpkin seeds, chickpeas, etc. In fact, it has been like this for the past two years : when I first started to learn about sport nutrition and performance food, I stopped eating meat.
However, I still eat fish, especially those fish rich in vitamin D such as mackerel, sardines, salmon, trout or tuna.
Especially in this period of confinement, vitamin D3 is a great help to the immune system and helps fight against viruses! It is also vital for healthy bones and teeth since it plays an important role in the metabolism of calcium. In addition, for people working indoors who do not get much benefit from the sun, as indoor sportsmen and women for example, a cure of vitamin D3 as a supplement to their diet is recommended.
For vegetarians, who eat fish oil, eggs and dairy products, the recommended vitamin D intake can be sufficient. But for vegans: in the absence of animal products, supplementation is a must because plants contain little vitamin D and do not provide the recommended intake.
The hive and its components:
In addition to all this, I never forget to incorporate to my routine, my food and juices the products of the hive!
Honey in my tea, herbal teas, in my bowl of muesli/oat flakes on wholemeal bread.
Pollen cures, not only stimulating and invigorating for the brain functions, it also contributes to physical performances.
Royal jelly, but only100% royal jelly originated from France, to strengthen the body defenses.
And finally, I don't hesitate to take propolis both as a supplement and external adjuvant for its many antibacterial, antiviral, healing and anti-inflammatory properties.
Performance is not just about talent! It is also about organization and rigor on a daily basis, when taking care of ourselves and our bodies! And, as we can see from Laetitia's performances, it is rewarding!