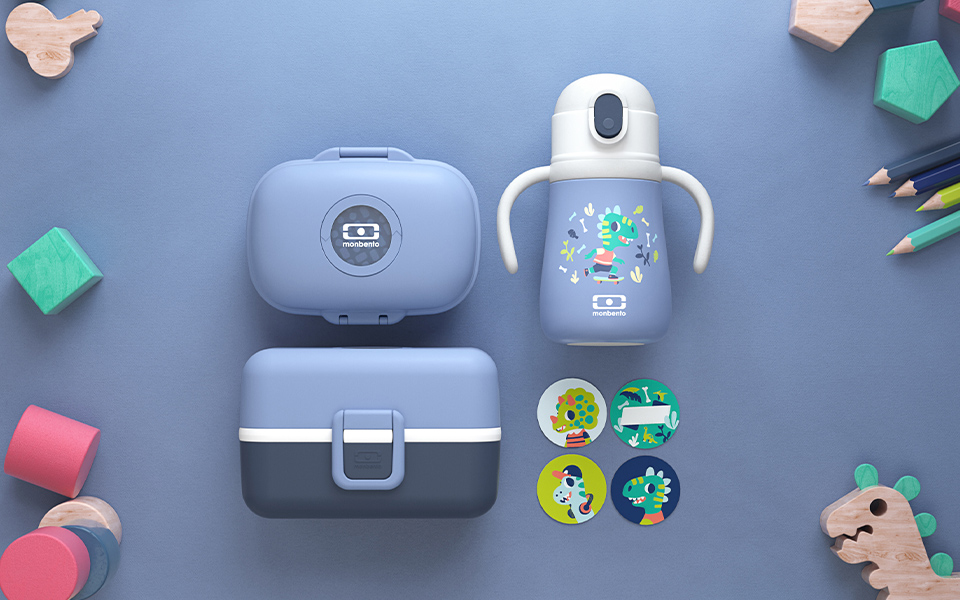 Although the picnic season is not completely over yet, it will be time to get back to school soon! You have probably already bought the school supplies for little adventurers, but have you thought about their lunch set? This month, let's discover some back-to-school ideas to better apprehend the kids' tasty start of the school year! 
#1 – A complete set for lunches just like at home!
To enjoy a delicious homemade meal prepared with love, you need be able to easily carry it to school! That's why monbento® has created lasting, reusable, and sturdy products, easy to use even with small hands. So, what is the best lunchbox for school? 
With the MB Tresor back-to-school lunch box, little foodies will be able to enjoy a complete lunch. Thanks to its 0.5L (17 floz) airtight compartment and its two food boxes with transparent lids, kids can carry a small starter, a main course, and a dessert, perfectly compartmentalized. Microwave, fridge, and dishwasher safe (without its top lid), this kids' school bento box also makes parents' life easier! 
For a mid-morning or afternoon snack, the MB Gram snack box is perfect! Thanks to its clasp, it is very easy to use and will protect the kids' chocolate or fruity snack. 100% airtight, the MB Gram guarantees 0 crumb in the bottom of the bag and intact snacks! 
The MB Tresor and MB Gram can also be customized with a little secret cap on the lid, so that kids can express their personalities and make sure lunches won't accidentally get switched! 
To complete this lunch set, kids will be able to quench their thirst with the MB Positive S compact bottle or the MB Pop that will keep their drinks fresh. The youngest can also enjoy the MB Stram adaptable bottle which allows them to drink from a straw in any position and adapts to their activities. Thanks to the MB Pocket Color cutlery set, made of plant-based plastic, kids can safely eat like real grown-ups with a knife, fork, and spoon. 
And for a colorful back-to-school experience, discover the wonderful world of the Penguin and Umbrella collections!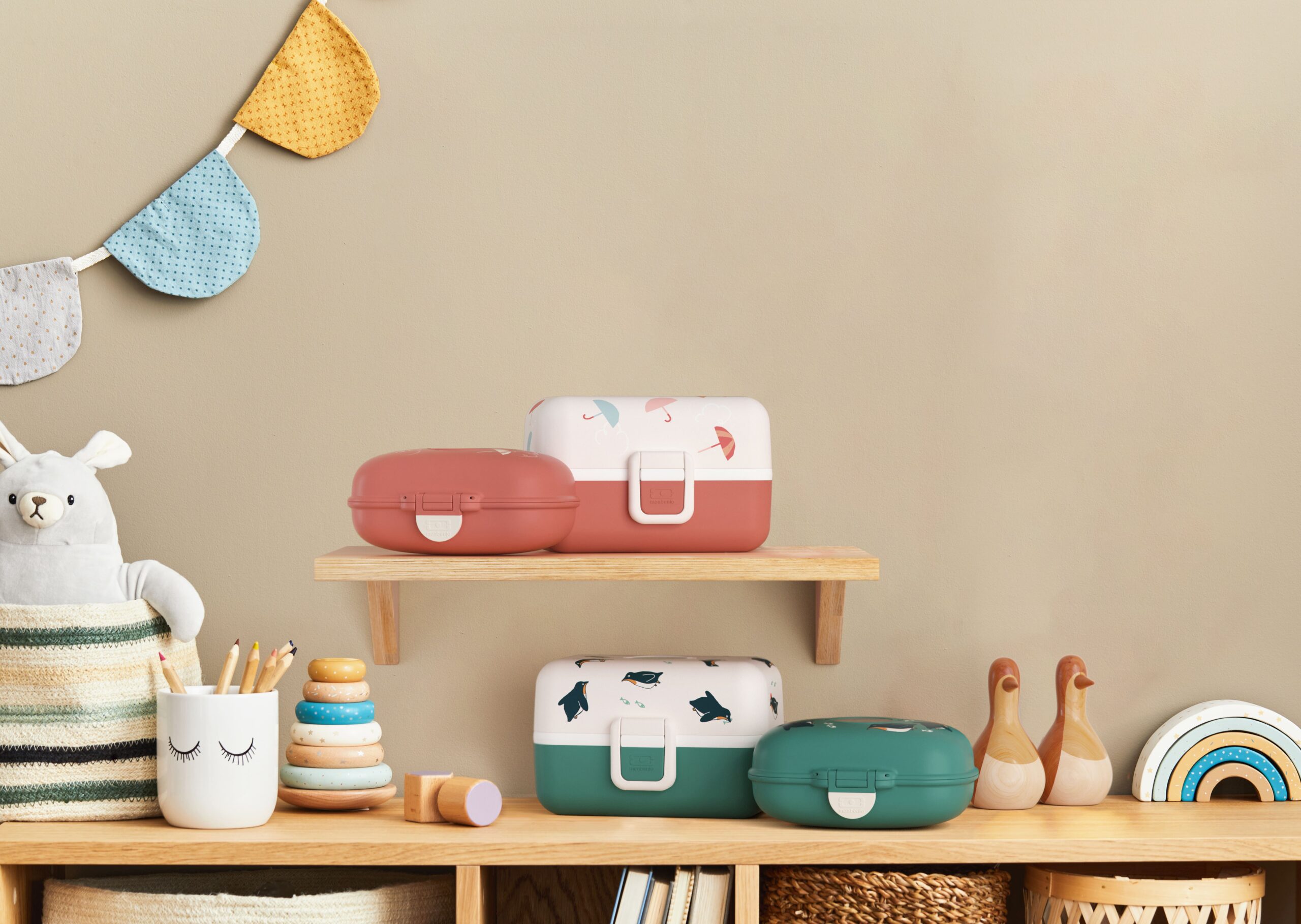 #2 – Let's fill lunch boxes with love… and tasty ingredients! 
Going back to school and resuming extracurricular activities requires a lot of energy! So, to avoid that the little ones feel tired at the end of their day, let's lean on balanced and tasty back-to-school lunch ideas! 
What should I put in my child's lunch box? Combine fruit and vegetables to give them vitamins, cereal products (brown rice, wholewheat bread, quinoa …) to prevent them from feeling hungry in the afternoon, proteins (meat, egg, legumes …) to give them energy and dairy products (yogurt, soy milk, cheese …) to help them grow well. 
What are good ideas for lunch? Avoid being caught unprepared for this culinary challenge: take the lead! On weekends, sit down with your family, take a sheet of paper and gather all the back-to-school lunch box recipes ideas for the whole week. Kids will enjoy choosing what they'll eat and adding their suggestions to the menu guarantees that the meal will be eaten and enjoyed! 
It's never too early to learn more about food: apprentice cooks can also take part in the preparation of their back-to-school bento box! So, let's prepare some family recipes together, and to conclude the cooking session, why not enjoying some funny animal-shaped cakes baked in the MB Silifriends silicone molds? 
If you're a little short on inspiration, discover some delicious back-to-school lunch box recipes for the MB Tresor  and the MB Gram  on our blog!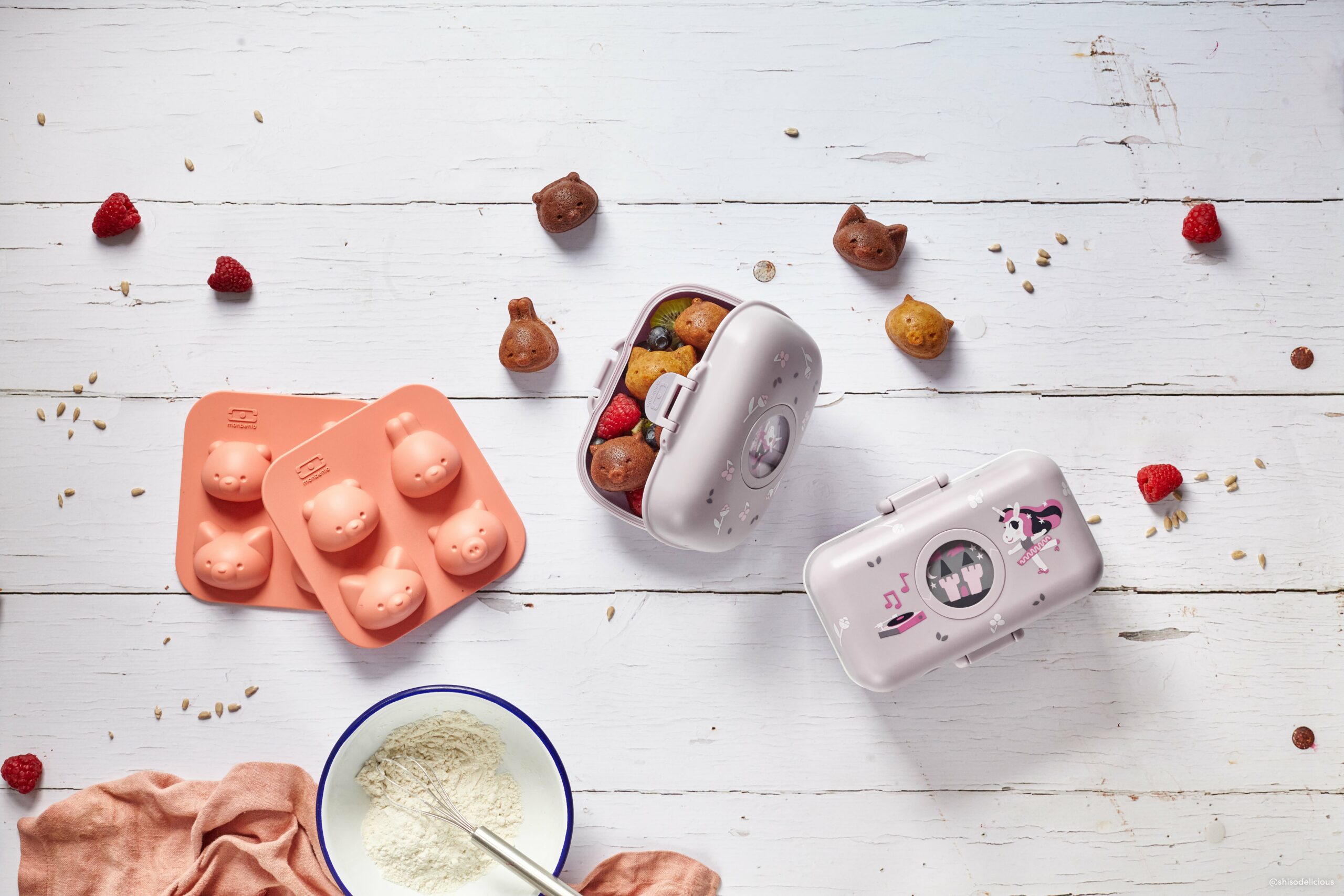 #3 – Let's whet their appetite! 
It is well known: we eat first with our eyes, and that's even more true for kids! So how can I encourage my child to eat at school? It's time to discover some tricks ?  
Step 1: bet on bright colors! Pretty ripe fruit and vegetables, some spinach, tomato or beet pasta and a few finely chopped aromatic herbs and voilà, that's a mouthwatering meal! 
Step 2: shape, cut and arrange! You have future paleontologists at home? They will surely enjoy eating a small omelet cut out with a dinosaur-shaped cookie cutter. Basketball fans will be delighted to eat small savory cakes in the shape of the orange ball. A little smiling face on Monday, colorful flowers on Tuesday, a small turtle on Wednesday, a bow tie on Thursday and some music notes on Friday: surprise your children every day at school with their bento box lunch! 
Step 3: presentation. For this kid-friendly step, invite the little foodies to place on their own the ingredients of their back-to-school menu in the different compartments of their lunch box. They will be proud to enjoy what they have prepared and will know how to use their bento box like real chefs! 
monbento® wishes everyone a good start to this new school year!