monbento is preparing some surprises for you for a few months now! You probably remember in February when MB came in. Then, things got faster: they're bags to put your monbento™ Original in for a few weeks. They are no matching with monbento boxes by color or by pattern.
Sauce cups arrived on Friday. Thank you for being so welcoming to them!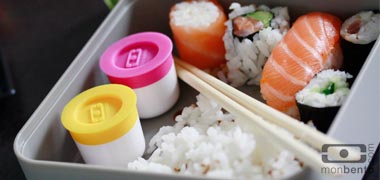 Those sauce cups are the logical following step for monbento™'s line. They are two by two with matching colors. Sauce cups enable you bringing a bit of salad dressing, sauce or even pepper or salt in a small box. It has been made to fit perfectly in monbento™ boxes. Such as any monbento™ product, sauce cups are microwavable without their lid, and also all dishwasher friendly.
There's still some good news to come! Surprises will arrive during the upcoming months…
Get ready !