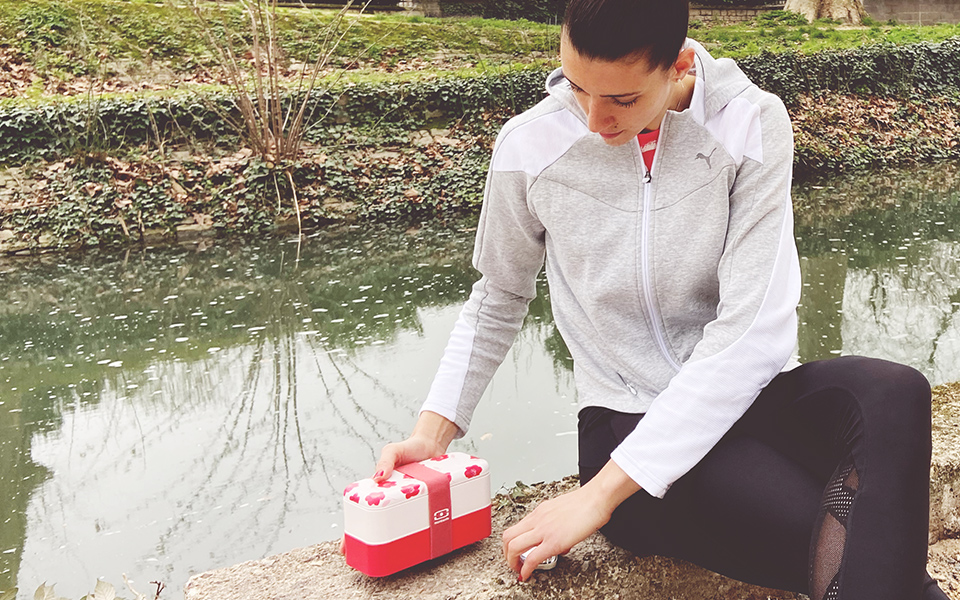 Hello the monbento family!  
This month, I won't talk about my training schedule with the Bourges Basket. Instead, I would like to share with you my daily routines to be in good shape! 
Eat
ing 
healthy
First of all, as I mentioned last year, I have always paid attention to the quality of what I eat. Since 2018, I have been paying even more attention to this aspect by making this lifestyle a priority. 
Every morning when I get up, I prepare a fresh, organic and seasonal fruit juice with a juice extractor to enjoy with my breakfasts, which vary according to my desires.  
Sometimes, I also add some vitamins and food supplements to fight against periods of fatigue and deficiencies related to the seasons or intensive sports (magnesium, vitamin D, spirulina…). 
Taking care of my b
ody
Then, as I told you in my previous article (cf: my resolutions for 2021), I try to do, several times a week, yoga and stretching sessions in addition to the ones I do at the gym.  
Usually, I do one yoga session in the morning before or after breakfast, and one stretching session after dinner, before going to sleep.  
My favorite yoga account: Boho Beautiful Yoga
Combined, these practices make me feel better both physically and mentally. I know that I will feel good and comfortable if I eat well, stretch well and recover well. 
Relaxing
In addition, I have been doing for quite some time now some mental exercises for at least a few minutes a day, focusing on meditation (guided or not), visualization and breathing.  
My favorite meditation app: Petit Bambou
I also work with a mental coach about once a week on different themes, depending on what I want to improve – such as self-confidence, getting to know myself better, how to apprehend and live this or that deadline – in order to keep progressing and become the best version of myself.  
These sessions often take place in the afternoon, between two practices, or in the evening after my training with the Tango Bourges Basket. 
I dedicate time to meditation, visualization and breathing exercises after eating or in the evening, just before going to sleep, to calm me down and clear my mind.  
What about you, have you ever used those methods? What do you do to stay in good shape? 
It seems relevant to me to share these methods with you since they are really efficient and have more and more followers nowadays.  
Personally, I really enjoy following these routines. Especially in the current context, (lockdown, curfews, etc.) that encourages these practices, when you don't necessarily know what to do when you're stuck at home in the evening. 
For each of us, these practices can be helpful activities after a busy workday and alternatives to sports, in order to dedicate time to ourselves, when we get back home from work in the evening or for a few minutes during the day. 
Laëtitia