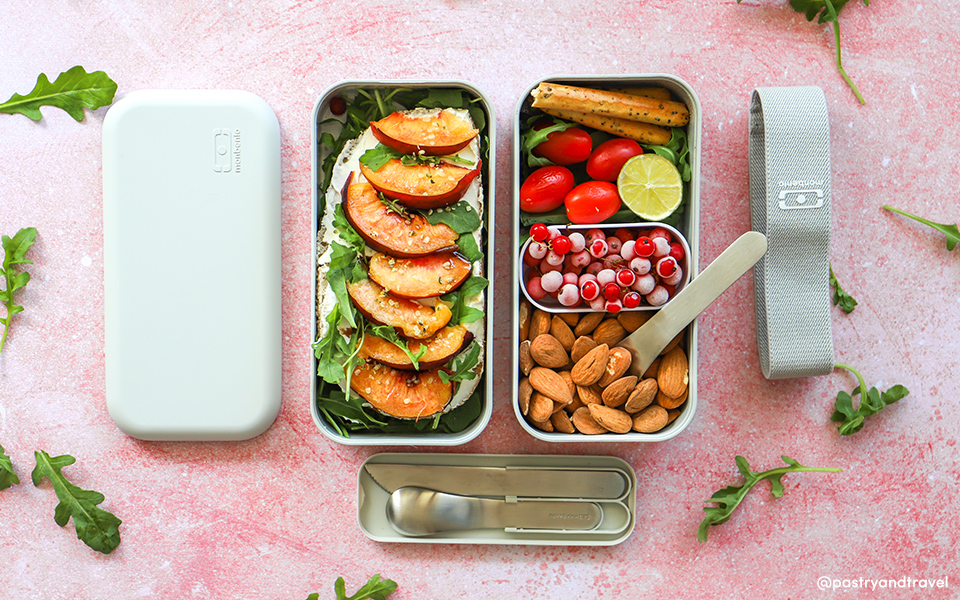 Welcome to this article which purpose is to help you create beautiful and colorful bento boxes that will put your family in appetite and make your colleagues crave with envy.
We are going to see how to organize each element inside the bento box in a harmonious way using colors and shapes.  This will contribute to enhance your recipe and make it a pleasure to the eye.
#1 – Define a palette of colors for your recipe
The first idea to improve the visual of your bento box is to use complementary colors (i.e. colors that enhance one another. Harmonizing colors will make the whole thing more visually pleasing….
…and it's simple !
If you have an idea of recipe in mind, think about the predominant color (for exemple, pasta is mainly yellow, salad green, etc.). Then, associate it with something either close in color (in this instance orange, yellow and red) or complementary (green with red, orange with blue, etc.)
For example: in a salad recipe with mostly green, add some red tomatoes (complementary color) and almonds (close in color).
In the picture below, the cheese and peach toast is placed on a bed of green salad. The second part of the bento box includes therefore colors that are close: red and orange.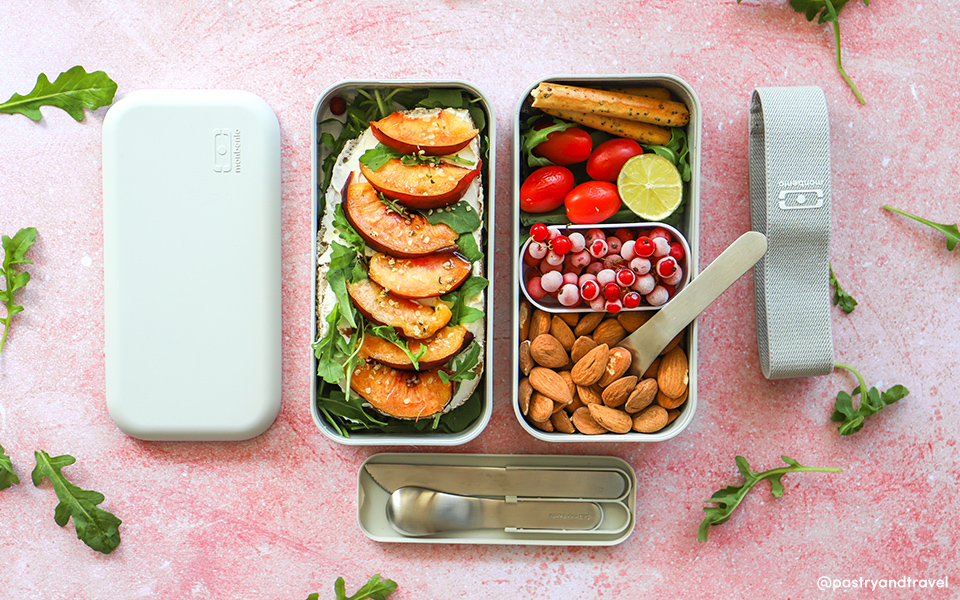 #2 – Playing on compartmentalization
The @monbento bento boxes have many accessories. That is a great advantage to help compartmentalize your meals. Feel free to use the food cup, the sauce cups MB Temple or a the dividers to properly separate the various food portions of the recipe.
The food cup included in the MB Original and the MB Square bento boxes is very convenient to add in a dessert, a sauce or a yogurt. The MB Tresor, the children's bento box, with its 2 food cups allows for both a starter and a dessert to go with the main course. So each part of the bento box has therefore a role to play.
There are many different colors available for the sauce cups. So you can match them with the colors of your bento or even with the color of the dish. The same goes for the cutlery.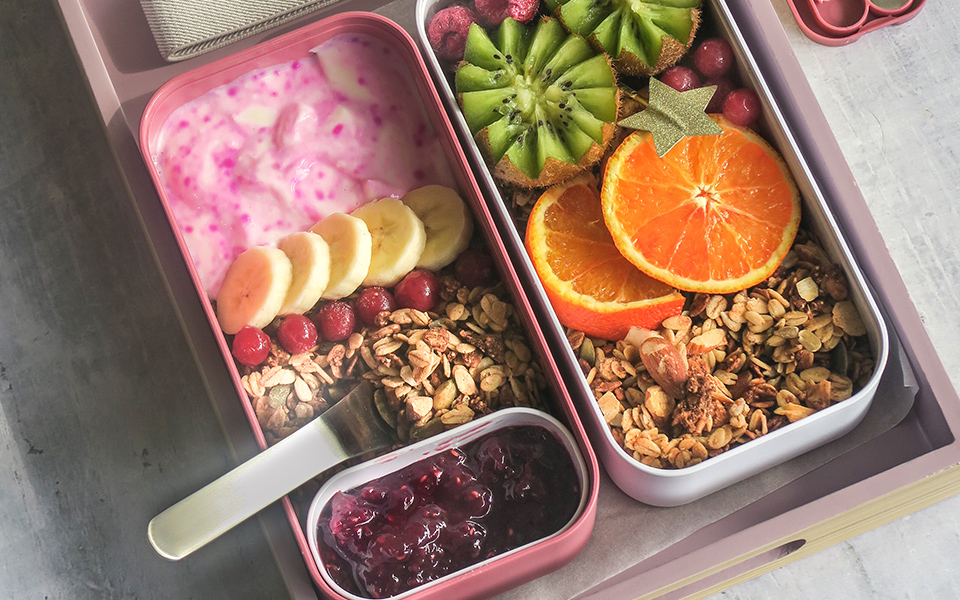 #3 – Create contrast
For a beautiful bento box, do not hesitate to create some contrasts that will give a twist to your dish! As we've seen previously, it's recommended to use complementary and close colors to create a nice harmony. You can also make color reminders between your bento and the toppings.
Let's take the example of a pasta recipe. Adding touches of green as with a pesto sauce, a few salad leaves, etc. allows to create a contrast between the yellow of the pasta and the green that will enlighten your dish. For a pink blush bento, adding a few red berries for dessert will give a sense of harmony to the ensemble!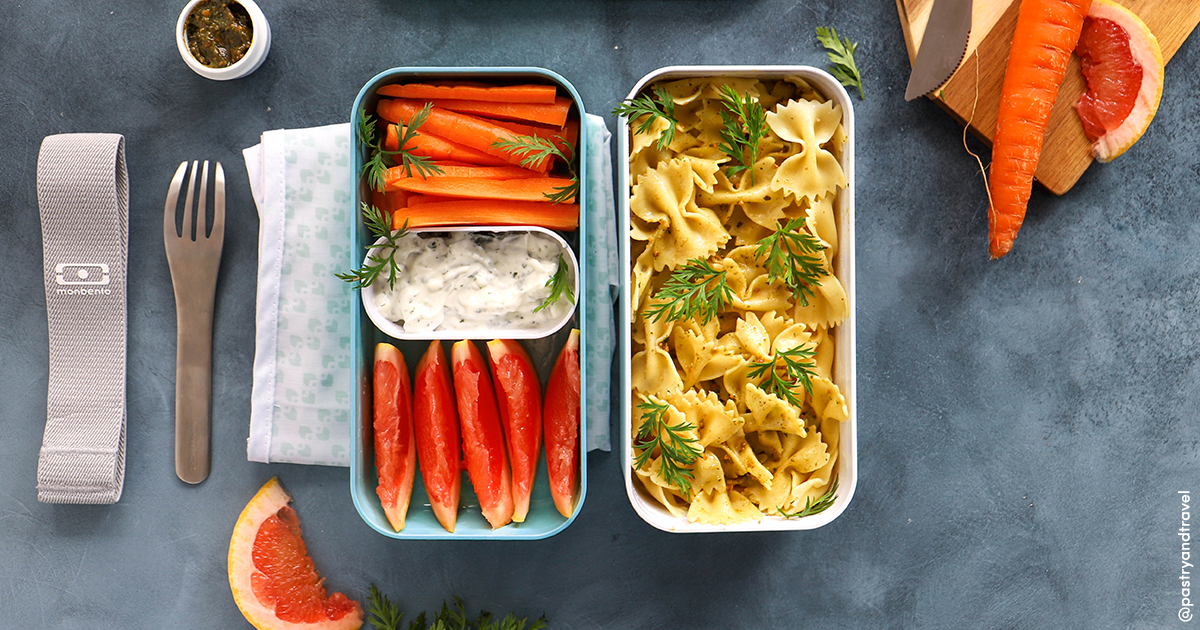 #4 – Playing with shapes and cuts
Using a cookie-cutter, give shapes to fruits, vegetables, bread, cookies and other ingredients to compose your bento. This will add a touch of originality to your presentation.
Let's take the example of the photo below: the tomatoes and kiwis are cut into hearts, the same goes for the little cookies. The theme is here in perfect harmony with the desired objective since it is a Valentine's Day bento.
For children's bentos, it can become very rewarding to cut fruit or vegetables in a playful manner. More than often children are not the biggest fans of fruits and vegetables, but this technique will allow them to forget about the nature of the ingredient to concentrate on its appearance, all for their greatest pleasure of.
Of course, the remaining pieces can be used in the recipe itself or for the purpose of a second bento preparation! Nothing is to be lost!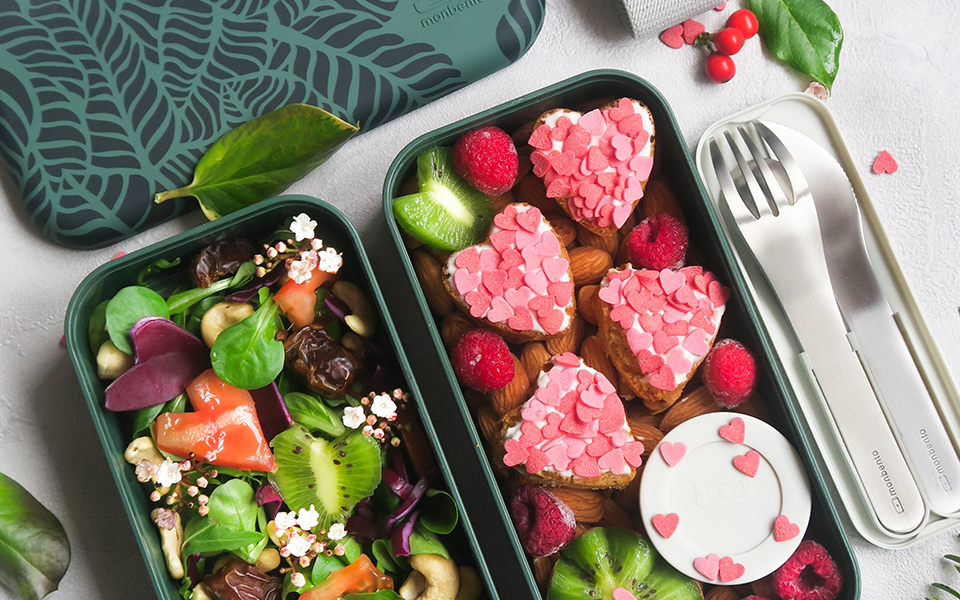 #5 – Adding value to fresh produce
Fresh fruit, fresh vegetables and homemade dishes are to be favored for a nice rendering. They have a more beautiful color and bring variety as well as a fresh and appealing appearance to the dish. Of course, they can be cooked, but not excessively so as to keep their beautiful color.
For fresh fruit, here is my tip!
Add a lemon juice to prevent the fruit from oxidizing. I recommend it especially with apples and pears.
Homemade recipes are also much tastier than ready-made foods.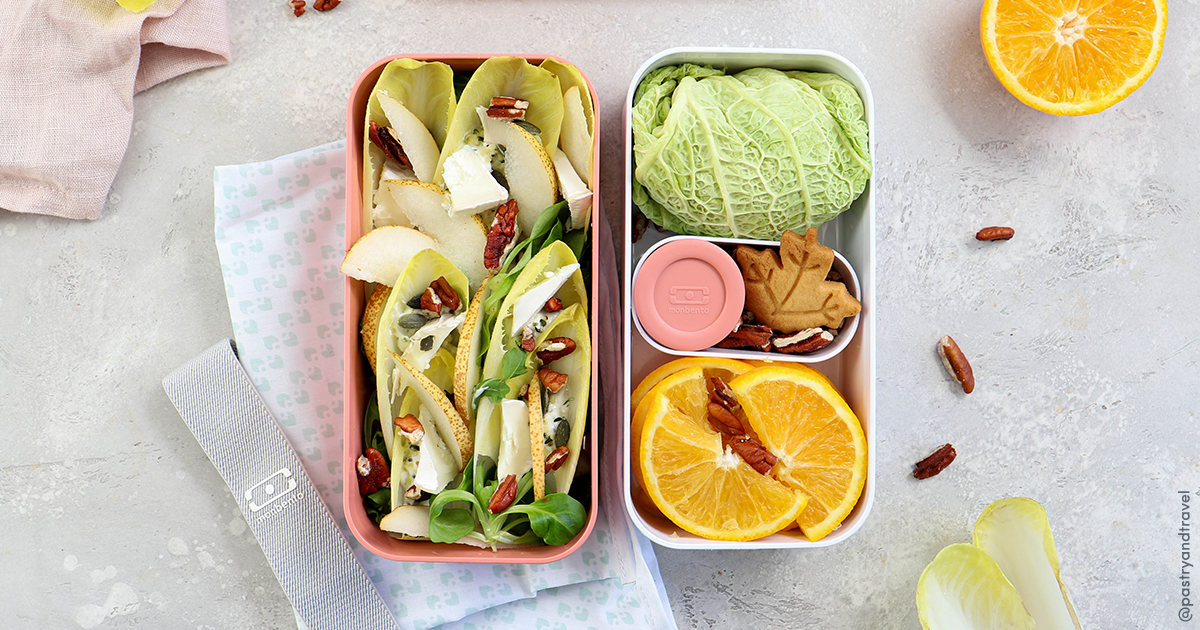 I hope that these simple tips will help you create beautiful bentos that will surely impress your loved one and make your office colleagues mouth water!