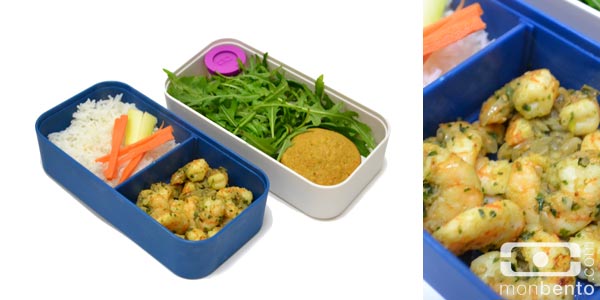 We don't start february with a pleasant climate. Why not starting with an appetizing bento ?
Let's have a tasty meal: shrimp marinade, rice, rocket with lemon and olive oil dressing and a little swedish carrot cake.
Marinade ingredients:
– garlic
– shallots
– onions
– coriander
– grated ginger
– parsley
– olive oil
– pinch of caraway
Press garlic. Slice shallots and onions. Peel shrimps.
Mix all marinade ingredients. Afterwards add shrimps to marinade.
Place it in the frigde for an hour. Cook it 5 minutes.
Carrot cake doesn't sound that attractive. But it is delicious! It tastes more like cinnamon than carrot.
For 6 muffins:
– 1 ½ dL grated carrots
– 1 dL cassonade, vanilla sugar or both
– 1 egg
– ½ oil or butter
– 1 tsp cinnamon powder
– 1 ½ dL flour
– ½ tsp baking powder
Preheat your oven to 350°F (180°C).
Mix the carotts, the sugar, the egg and the butter.
In another bowl mix the flour, the baking powder and the cinnamon. Blend it with the other mix.
Put the mix in muffin tins.
You can also add a creamcheese and sugar icing.