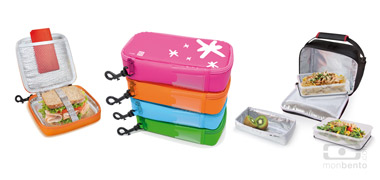 Sunny days are slowly and shyly showing up. Our insulated products will be really good things to have at school, during outdoor activities, for a picnic at the beach or in the countryside.
Sandwich cases :
You can choose between 2 sizes : half baguette and soft bread ; and 4 colors : pink, orange, blue and green.
They are perfect accessorises to put your "made with love" sandwich ! These cases even have an inside pocket to put a napkin and some sweet words in.
As you know, some hours in a backpack are always fateful for your kid's sandwich. And it's not only falling into pieces ! The sandwich is also getting lukewarm.
I'm sure you're thinking that a lukewarm sandwich is not so dramatic. But think about the salad… Yes ! It's getting like the kids most hated food : spinach !
You would not do that to your so loved child ?
There's something for every stomach !
Nano lunchbox :
This lunchbox is composed of an insulated case and a big capacity plastic box (800 mL – 27 oz).
What a good way to carry with you a big dish in a quite small box. The box is 100% hermetic and the case keeps your food cold.
You can be trendy even during your meal.
Available in purple, red, white and black.
If you don't have a fridge at work, here is the solution : the Nano Lunchbox !
The best alternative to your frozen-food bag !
Lunchbox case :
For any situation, a big appetite or while travelling. Keep cold an entire meal for several hours. This picnic set is composed of 2 big boxes (800 mL and 600 mL – 27 and 20.3 oz) and a compartment for fruits.
Everything fit in a very compact bag.
The bag is easy to carry with an handle and a shoulder strap (removable).
Let your practical side express itself ?$
Who said that it is complicated to have a healty meal out of home ?