A short time before the beggining of the new school year we have some surprises!
monbento™ Square used to be the "big bento box". That's why we decided to make it smaller. For a test series we made monbento™ Square 1 compartment so that you can try monbento™'s plate.
Of course it is going to be cheaper too : only 18.50 euros. It makes some kind of 'in between' monbento™ Origami with 1 or 2 compartments, when I possibility is too big and the other one too small.
Pitch on monbento™ Square 1 compartment!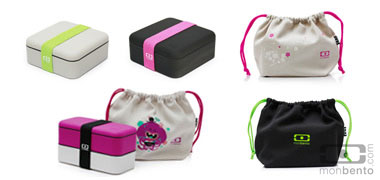 As you know, good news never comes alone! We just received bags for monbento™ Original.
This bag is a case that protects your bento box while transporting it. It is made out of polyester a very resistant and easy-care fabric.
Bags are available in several colors with different patterns, according to your own tastes!