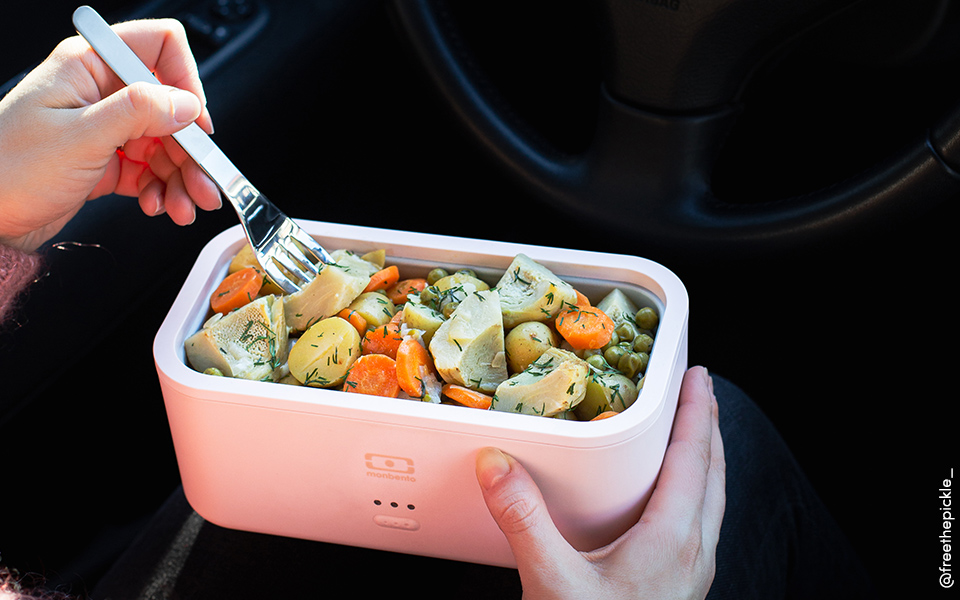 Ingredients
350 g of artichoke hearts (about 5-6 artichokes)
2 yellow onions
3 carrots
300 g of new or baby potatoes
1 bunch of spring onions
100 g of peas
5 tbsp of olive oil
The juice of 1 lemon (about 50 ml)
400 ml water
Salt
Pepper
1 tbsp of cornstarch
A few sprigs of fresh dill
Instructions
Peel the onions, carrots, potatoes and spring onions.
Mince the onions.
Slice the carrots and cut the potatoes and spring onions in half.
Cut the artichoke hearts in 4.
In a saucepan, heat the olive oil and brown the onions over medium-high heat for 2 to 3 minutes.
Add all the vegetables and sauté for another 7 to 8 minutes, stirring regularly.
Add the water, lemon juice, salt and pepper. Reduce heat and cover.
Let simmer for 35 minutes.
At the end of the cooking time, dilute the cornstarch in a tablespoon of water and pour into the preparation to thicken the sauce. Stir to combine.
Chop and add some fresh dill.
Place one portion in the MB Warmer heating bento box and heat on program 1 (15 minutes) before eating.