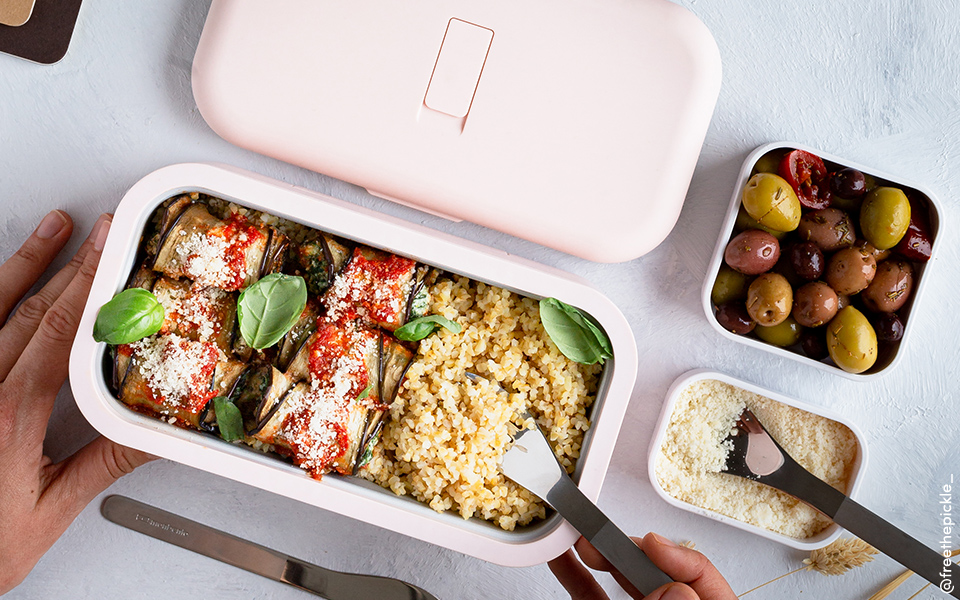 Ingredients
For the eggplants:
2 eggplants
Olive oil
Oregano
Salt
Pepper
For the sauce:
2 tbsp of olive oil
2 shallots, minced
Garlic, pressed
1 bay leaf
500 g of tomato sauce
1 tsp of oregano
½ tsp of sugar
Salt
  For the spinach and ricotta filling:
400 g of fresh spinach
250 g of ricotta cheese
60 g of Parmesan cheese, grated
1 egg
1 pinch of nutmeg, grated
5 fresh basil leaves
Salt
Pepper
Instructions
For the eggplants: Preheat the oven to 200°C. Prepare 2 baking sheets with baking mats. Using a mandolin or a sharp knife, cut thin slices of eggplant lengthwise. Place the slices on the baking sheets, without overlapping. Drizzle some olive oil over the slices and sprinkle with oregano, salt and pepper. Bake the 2 sheets plates at the same time for 20 minutes.   For the sauce: In a saucepan, heat the oil over medium-high heat and sauté the shallots and bay leaf for a few minutes. Brown the garlic with the shallots for 2 minutes. Pour in the tomato sauce, oregano, sugar and salt. Lower the heat and simmer covered for about 30 minutes.   For the spinach/ricotta filling: Steam the spinach for 5 minutes. Let it cool before squeezing it with your hands to remove as much water as possible. In a large bowl, mix the ricotta, Parmesan, egg, nutmeg and chopped basil leaves. Add the spinach, salt and pepper. Mix well.   For the rollatini: Preheat the oven to 200°C. In an ovenproof dish, pour ⅔ of the tomato sauce previously prepared. Take a slice of eggplant in front of you and place 1 large spoonful of spinach/ricotta filling on one end. Roll it up tightly and place it in the dish on top of the tomato sauce. Repeat with all the eggplant slices. Bake at half height for 15 minutes. Once cooked, sprinkle with a little Parmesan cheese and basil leaves on top. Place the eggplant rollatini in the MB Warmer heating bento box and serve with bulgur. Reheat with the #2 heating program (25 minutes) before eating. Rollatini can be eaten hot or lukewarm and can be stored in the refrigerator for up to 4-5 days if needed.