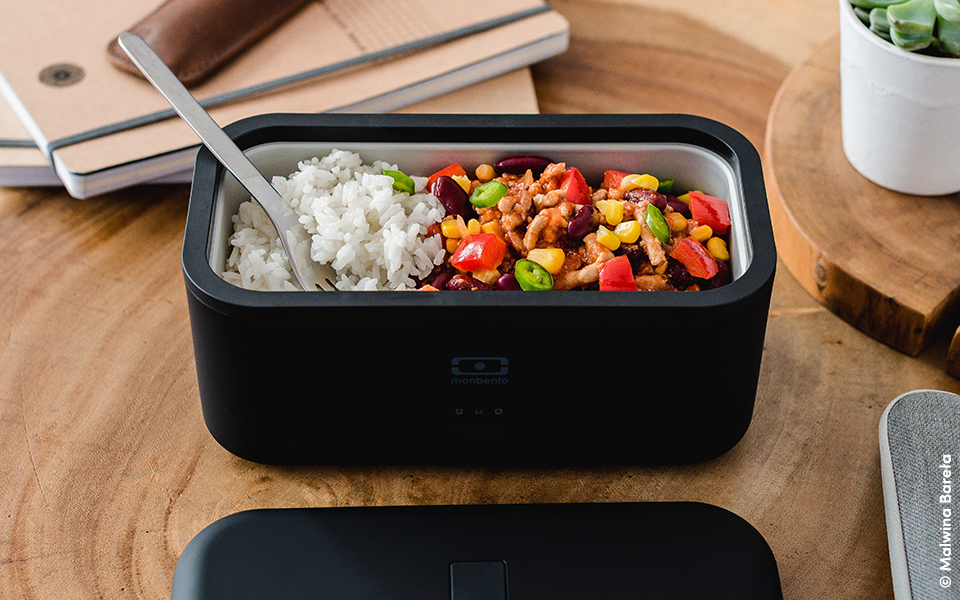 Ingredients
1 small onion, chopped
1 garlic clove, minced
100 g of pork meat, chopped
½ red bell pepper, cubed
200 g of cooked tomatoes, diced
½ tsp of ground cumin
A few pinches of ground cilantro
1/3 tsp of dried oregano
¼ tsp of chili powder
Salt
Pepper
50 g of red kidney beans, cooked
30 g of corn, cooked
1 tbsp of oil
1 portion of white rice
A few leaves of cilantro
Instructions
In a saucepan, cook the rice according to package instructions.
In a frying pan, heat the oil. Add the onion and garlic and sauté for 5 minutes, stirring regularly.
Add the pork meat and cook for 5 to 7 minutes, crumbling with a wooden spatula.
Add the bell pepper, tomatoes and spices.
Cover and simmer for 15 minutes or until the sauce is thick and the bell pepper is tender.
Add the kidney beans and corn and adjust seasoning if necessary.
Place the chili in the MB Warmer, add the rice and sprinkle with cilantro leaves.
Reheat on the program 2 (25 minutes) before serving.