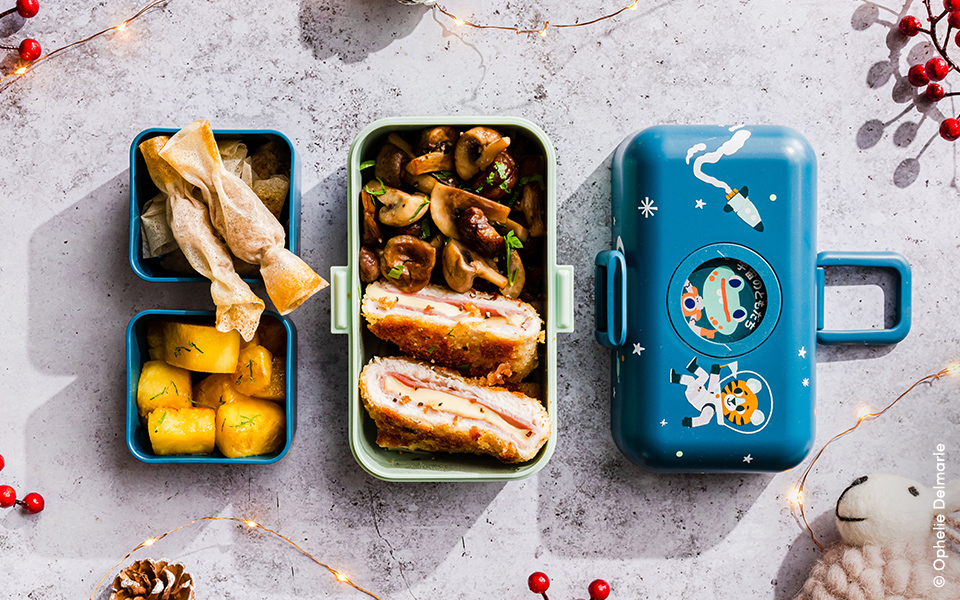 Ingredients
Starter: 
2

brick pastry sheets

 

1

ball

 

of mozzarella, cut into small cubes

 

1 can of natural tuna

 

Olive oil

Food string
  Main dish: 
4 turkey

escalope

s

 

4 slices of ham

 

8 slices of

E

mmental cheese

 

20 g

of

 

flour

 

1 egg

 

50 g of breadcrumbs

 

200 g

of

 

mushrooms, cut in 4

 

200 g of chestnuts in jar

 

1 knob of butter

 

1 bunch of parsley, chopped

 

Sunflower or

canola

 

oil

 
Dessert: 
1 pineapple, cut into cubes

 

1 knob of butter

 

1

tbsp

 of honey

 

Some mint leaves

 
Instructions
Starter: Tuna and mozzarella candy-shaped puff   In a bowl, crumble the tuna and mix it with the mozzarella cubes. Cut the brick pastry sheets into six 8cm squares and oil them with a brush. Place a spoonful of stuffing in the center of each sheet, then roll them into a candy shape. Using the food string, make easily detachable knots and tie the ends to keep the candies in shape. Bake for 3 to 4 minutes at 180 °C, untie the string and serve!    Main dish: Turkey cordon bleu, chestnuts and mushrooms   For the cordon bleu: on a chopping board, place an escalope, salt it, then place a slice of ham and two slices of Emmental cheese on top. Fold everything in half to create a turnover shape. If necessary, cut everything slightly to give it a harmonious shape.  Dip the cordon bleu first in the flour, then in the beaten egg, and finally in the breadcrumbs to bread them. Then fry them in a frying pan with vegetable oil. Finish cooking in the oven at 150 °C for 3 to 5 minutes.    For the chestnuts and mushrooms stir fry: melt the butter in a hot frying pan. Then add the mushrooms and cook for 5 minutes. Finally, add the chestnuts to heat them up. Turn off the heat, add some salt and chopped parsley.    Dessert: Honey roasted pineapple   In a frying pan, melt a knob of butter. Add the pineapple cubes and honey and cook for 5 minutes. Remove from the heat and add a few mint leaves. 
Presented products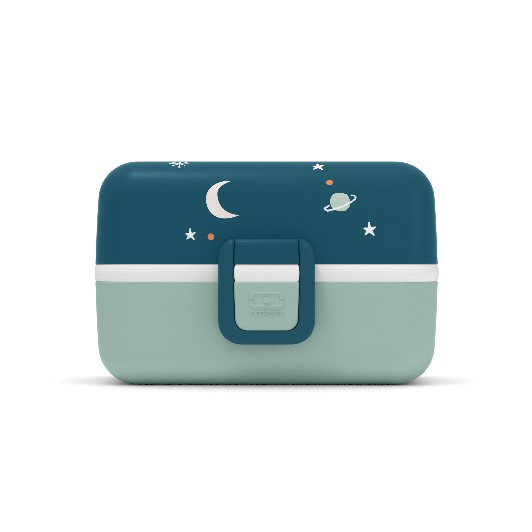 MB Tresor blue Cosmic
The kids' bento box
Buy now