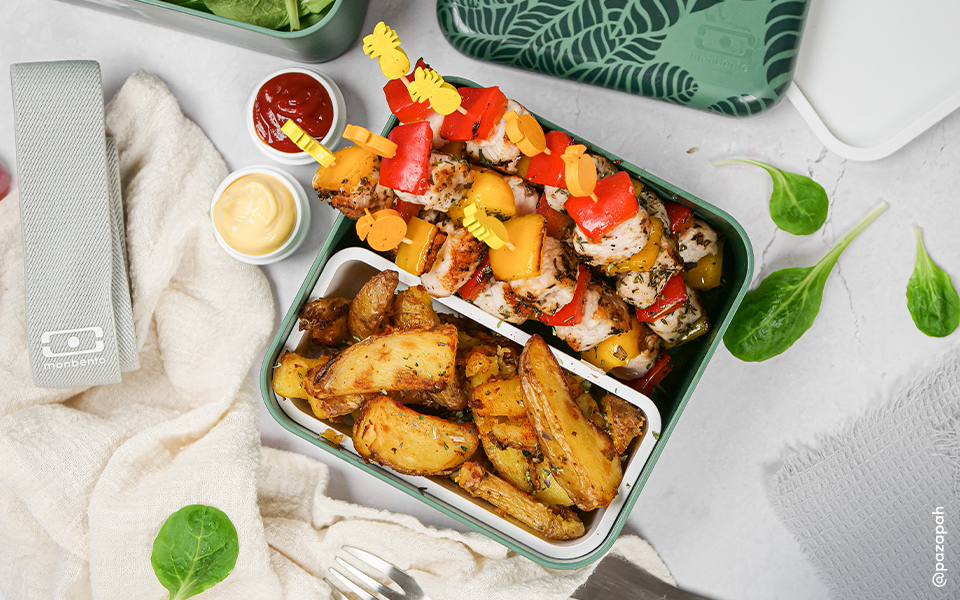 Ingredients
For the skewers:
2 chicken cutlets
1 red bell pepper
1 yellow bell pepper
1,5 tbsp of olive oil
Lemon juice
A pinch of cumin
1 onion
Salt and pepper
Fresh herbs
For the spiced potatoes:
500 g of potatoes
1 tbsp of paprika
1 tsp of sweet pepper
1,5 tbsp of oil
A pinch of garlic powder
Salt and pepper
Instructions
Prepare the chicken and bell peppers skewers:
Cube the chicken cutlets. Wash, remove the seeds and dice the red and yellow bell peppers. Then cut the onion into large pieces.
Mix the olive oil, lemon juice, cumin and a little bit of salt and pepper in a bowl. Prepare the skewers by alternating pieces of chicken, of onion and of bell pepper.
Brush the skewers with the olive oil mixture.
Cook the skewers in a pan or on the barbecue for 10 minutes. Serve them warm with chopped herbs.
Then prepare the spiced potatoes:
Preheat the oven to 180 °C. Rinse the potatoes and cut them into quarters without peeling them. In a salad bowl, mix the oil with the garlic powder, paprika, sweet pepper, salt and pepper. Add the potato quarters and mix. Add a tsp of water and stir again. Place the potatoes in an ovenproof dish and put them in the oven for 40 minutes, stirring them from time to time. Once they are golden brown, serve immediately.
Presented products