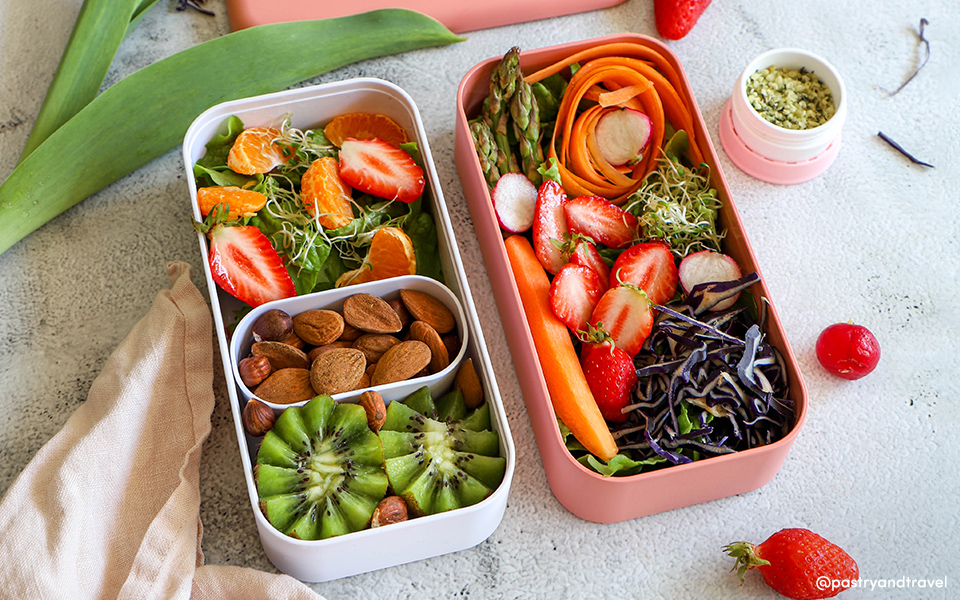 Ingredients
Some salad leaves
1 carrot
¼ of red cabbage
5 green asparagus
7 strawberries
1 clementine
1 kiwi
A handful of almonds
A handful of sprouted seeds like Alfalfa
Instructions
For the first compartment:
In a saucepan, bring water to a boil. Then, boil the asparagus for 12 minutes. Remove them with a skimmer and set aside.
Add the salad leaves on the bottom of the bento box.
Cut the carrot and the piece of red cabbage into strips.
Cut each strawberry in half.
Add the cold asparagus, the strips of vegetables, the strawberries and the sprouted seeds of Alfalfa in your bento box.  
For the second compartment:
Fill your food cup with almonds and place it at the center of your second compartment.
Cut the kiwi in half like a flower. For that, use a sharp knife and create teeth-like notches in the center of the kiwi. Place it next to the food cup.
On the other side of the food cup, add some salad leaves and the clementine previously peeled.
Presented products