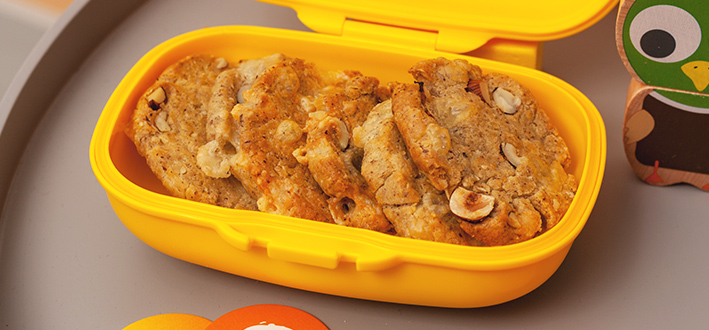 Ingredients
Ingredients for about fifteen medium cookies:
75 g flour
60 g hazelnut powder
40 g melted butter
1 egg
¼ sachet of baking powder
90 g Comté cheese cut into small cubes
1 large handful coarsely crushed hazelnuts
Salt, pepper
1 tablespoon of olive oil
Instructions
The 1st of April is approaching and as every year we have concocted a trompe l'oeil recipe to play a little gourmet trick to your children, friends, colleagues, neighbours, bosses... Well, who you want ;-)
To surprise and delight the taste buds at the same time, this time we thought of salty easy to make biscuits. At the sight, a superb appearance of American cookies to be devoured for snack; at the tasting, a good Comté flavour that goes divinely well with the hazelnut!
- - - - - -
In a blender (or in a bowl for the brave), mix the flour, hazelnut powder, baking powder, egg, butter, salt (have a light hand, cheese already brings a touch of salt) and pepper.
Pour into a bowl and add the cheese and hazelnuts. Mix well. The dough must be homogeneous and a little sticky.
Spread the preparation on a film paper or a sheet of baking paper and roll it on each side to form a regular roll (about 4 cm in diameter and 20 cm long). Fold down the ends of the paper and freeze for about 30 minutes.
5 minutes before removing preparation from freezer, preheat oven to 180°C.
Remove paper and slice discs about 1 cm thick.
Place on a sheet of baking paper, leaving enough space between each cookie and bake halfway up for about 15 minutes.
- - - - - -
Perfect finishing tip: after 5 minutes of baking, press the cookies with the back of a tablespoon to give them a perfect cookie shape. Brush the cookies with olive oil. Return to oven.
Remove from oven and let cool for perfectly crispy-moist cookies ;-)
For children, a few cookies slipped in their MB Gram snack box and you just have to wait for their often very expressive reaction ;-)
Happy April Fools' Day to all of you!!