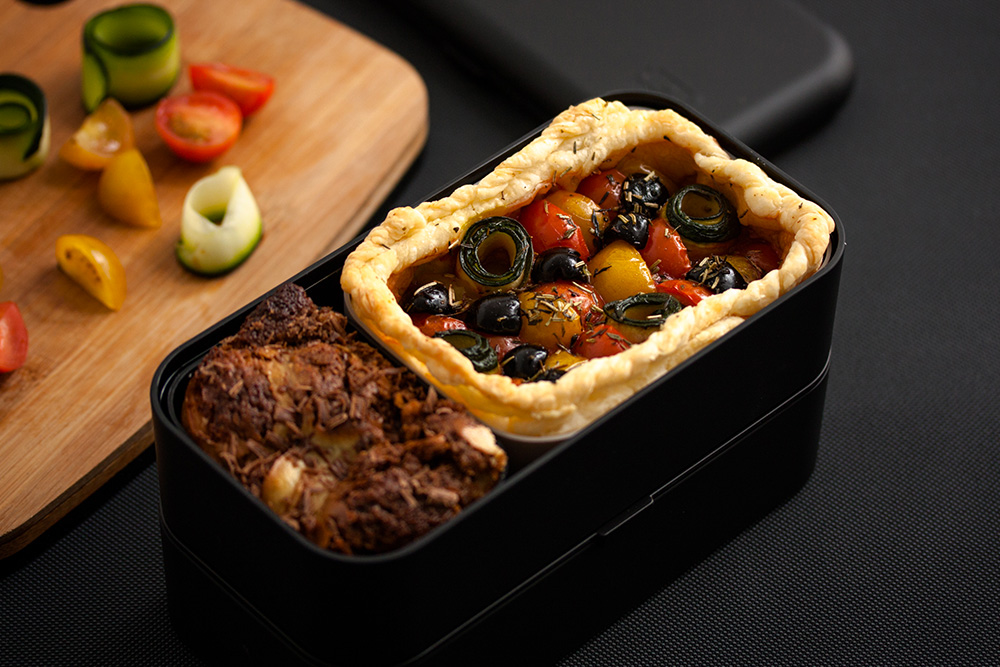 Ingredients
Ingredients for a 2/3 MB Silicase mould:
1/8 of a puff pastry roll (no food waste: you can use the remaining pastry for other mini pies, little salted puffs, croissants for snack time…)
2 Tbsp of tomato sauce
6 cherry tomatoes (you can have different colours)
6 black olives
Half a little zucchini
1 tsp of olive oil
« Provence herbs »
Salt / pepper
Optional: 1 egg yolk to colour the pie crust
Instructions
Preheat your oven to 180°C.
Cut the puff pastry roll into a rectangular shape and place it in the mould: the pastry must go over the edges slightly (about 2 cm).
Scrunch the pastry edges with your thumb and your index finger making a rotational movement over the entire periphery of the mould.
Line the bottom of the pie with the tomato sauce.
Wash the cherry tomatoes and cut them in halves. The olives too.
Wash the zucchini but do not peel it. Using a vegetable peeler, make then strips. Roll up the strips into small rolls.
Place the vegetables on the tomato sauce; make two levels. Cover with the olive oil. Add salt, pepper and « Provence herbs ».
Optional: with a brush, baste the edges of the pie with the egg yolk.
Cook for 15 minutes (adjust the baking time according to your oven: it is ready when the pastry and the vegetables turn golden).