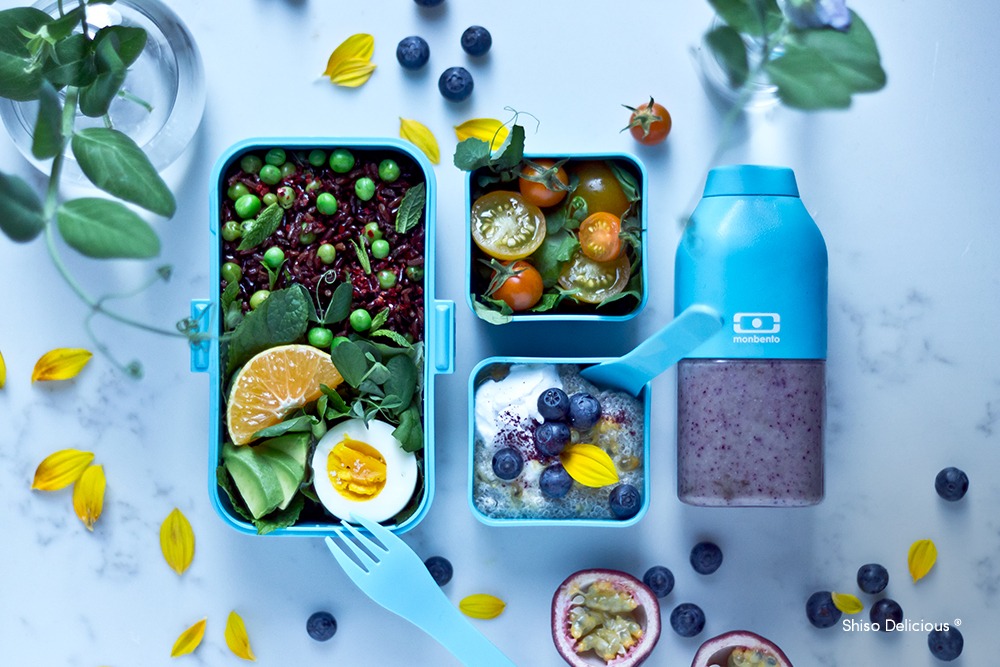 Ingredients
Passion fruit chia pudding:
½ tbsp chia seeds
1 tsp honey
4 tbsp non-dairy milk (almond, rice or coconut milk)
1 passion fruit (the inside seeds)
Pea black rice salad:
180 ml (160 g) wholegrain rice. I used black thai rice, but you can use regular thai or basmati wholegrain rice
240 ml water
200 ml (110 g) frozen peas
You can quick-defrost the peas by placing them in plenty of cold water from your tap for 5 minutes
Optional: one big handful fresh mint, 20 leaves, finely chopped
For the dressing:
2 tbsp olive oil
1 tbsp tamari – dark soya sauce
½ tbsp balsamic vinegar
¼ tsp good quality natural salt (with no additives)
1 tsp gochugaru, Korean pepper, or 1/2 teaspoon each of mild chili powder and sweet paprika powder
Optional: one pinch dried garlic granules or a very small amount of grated fresh garlic
Blueberry pea and tahini smoothie:
½ big banana
50 ml (30 g) frozen peas (no need to defrost)
50 ml (35 g) frozen or fresh blueberries
1 soft date
Juice of ½ lime or ¼ lemon
1 tsp tahini or other nut butter of choice
200 ml water
Instructions
Passion fruit chia pudding:
Chia seeds are a real power-food: typically containing over one-third omega fatty acids, one-fifth protein, one-third fibre by weight and a considerate level of essential minerals. In liquid, chia seeds swell up to a jelly-like consistency, making a lovely 'pudding' – perfect for breakfast, snack or dessert.
You can vary the flavours of your chia pudding and toppings endlessly with berries, fruit, granola and superfood powders. In this recipe I love the tropical, refreshing aroma and crunchy seeds of the passion fruit. It tastes amazing made with coconut milk!
Chia pudding needs occasional stirring for the first 5 minutes while the seeds are swelling, or the pudding will become lumpy. If you find it easier – and don't mind the washing up – you can prepare the pudding in a separate bowl and transfer it to the MB Tresor box. This recipe can easily be doubled or tripled, the pudding keeps in an airtight container for a couple of days in the fridge.
Place chia seeds into a small MB Tresor box with the passion fruit and honey.
Add the milk and start stirring straight away, using a fork. Stir for the first few seconds, then come back, stirring occasionally for the next 5 minutes while you prepare the rest of your bento.
Optional: top with blueberries and plant based yogurt of choice (I use coconut yogurt).
Tip: for a thicker chia pudding, use 2 tablespoons chia seeds.
?
Pea and black rice salad:
Black rice comes in many varieties. Compared to their wholegrain and white cousins they have a smokier flavour, chewier consistency and adds drama and colour to any dish!
Wash the rice, add fresh water and cook until all water is absorbed and the grains are soft, or according to the manufacturer's instructions. This should make around 600 ml (530 gr) cooked rice.
While the rice is cooking, whisk the dressing ingredients together in a big bowl.
When the rice is ready, add rice, defrosted peas and mint if using to the dressing in the bowl and mix gently.
The rice can be stored in the fridge for a couple of days but it tastes best if it hasn't been chilled, refrigeration makes the grains hard. Best prepared the night before or in the morning before packing your bento.
Pack the rice in your bento with a protein of your choice, I used a boiled egg here, and a green salad of choice. I used pea shoots, fresh mint, clementine and yellow cherry tomatoes.
If you want to heat up your rice at work or school, pack the salad and egg in the other, small box.
Blueberry pea and tahini smoothie:
This may sound like a brave combination of flavours but they balance each other beautifully! Peas add nutritional value and their flavour is masked by the blueberry and lime. Tahini adds flavour, creaminess and nutritional value.
If you are not a tahini fan you can use almond or cashew butter instead and if you are not liking the idea of peas in your smoothie, you can replace them with blueberries.
Place all the ingredients in a blender and blend until very smooth.
Shiso Delicious