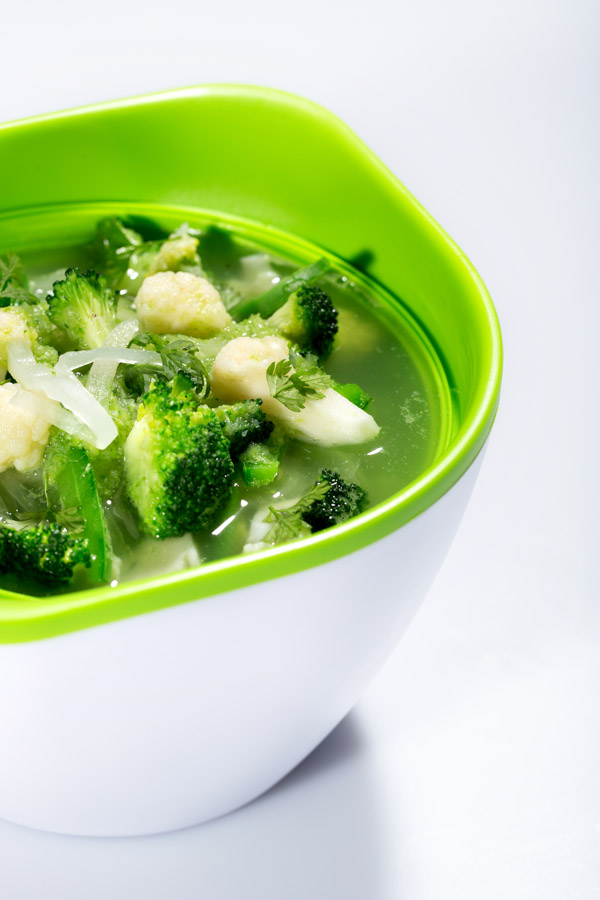 Ingredients
½ savoy cabbage
½ Chinese cabbage
1 head of broccoli
1 head of cauliflower
½ celeriac
2 green peppers
1 Tbsp. olive oil
1 large white onion
3 l mineral water (rich in potassium)
Instructions
Wash all the vegetables well. Slice the savoy cabbage leaves coarsely, and slice the Chinese cabbage thinly. Remove the tops of the broccoli and cauliflower. Peel the green peppers, remove seeds and dice.
In a saucepan, sweat the diced onion in olive oil, then add the mineral water and bring to a boil.
Add all of the vegetables and simmer for 30 minutes. Season with salt and the spices of your choice.
I like this recipe in a curry version, where you can add a spoon of tomato concentrate to make this soup a bit richer…
Serve blended or not. This soup is also delicious served with fresh herbs.
Cabbage's natural active ingredients: cabbage is rich in fibres and potassium; it is a powerful diuretic and detoxifier.